Prologue
It's 2015, and my girlfriend and I have been saving up, clearing debts and getting ready to enter one of those 'proper' adult moments, that's right, we started looking at houses… to buy!
At this point, we were in a 2 bedroom council flat, it wasn't in a bad location, was quite easy for us both to get to work, but our aim was always to buy our own house. It took a while to get to this point, but we were finally in a position where the bank would offer us a mortgage, so the fun began at looking for houses to buy.
At this point, my 'home office' was nothing more than a corner of the living room (it was previously in the spare room, but the other half decided she'd prefer me to be in the living room, so one day while I was at work and she wasn't, she decided to unplug everything and move it into the living room, meaning I had a fun evening that night, which I hadn't planned for, plugging everything back in)!
At some point after that, I ended up with this (excuse the mess):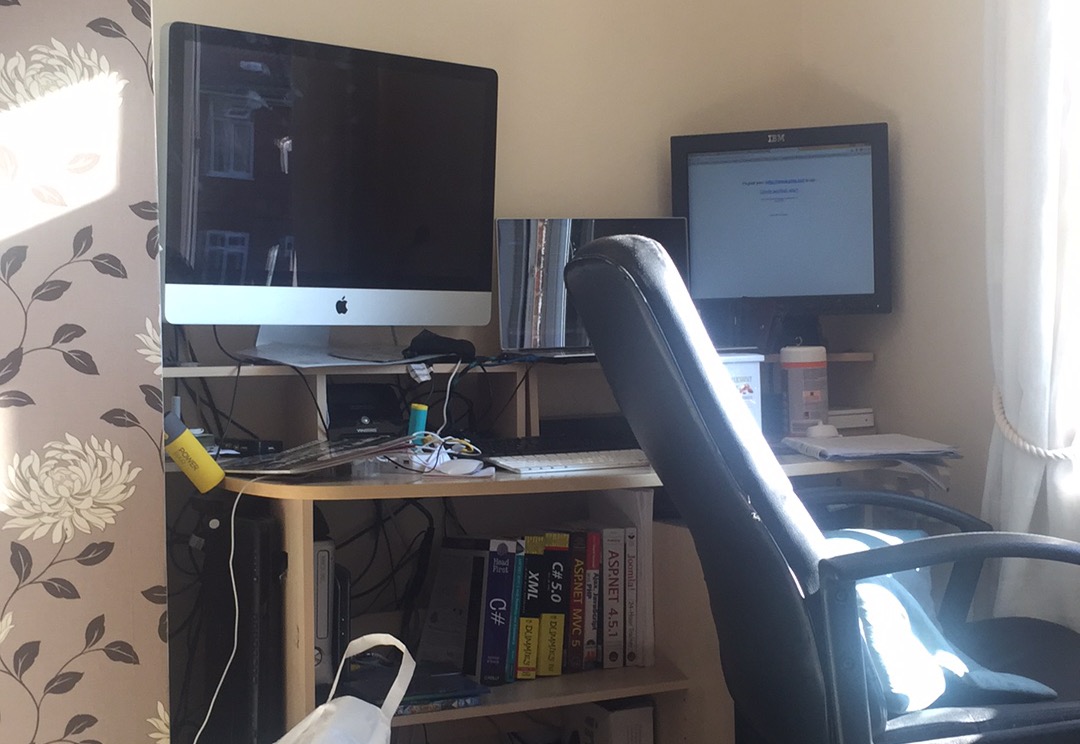 2015
November - We think we found one
So, we've looked at various properties now, somewhere in the region of the 20s if I recall correctly, we'd had a couple of false starts, there were a couple of houses I liked but the girlfriend didn't, and vice versa, and there was one I think we'd put an offer in but it wasn't accepted, we found another, in an area we both didn't mind, it looked quite, and after a couple of viewings, we decided we'd make an offer, and it was accepted. Whilst neither of us got everything that was on our wishlist, I did get one thing that was on mine, a space for an office!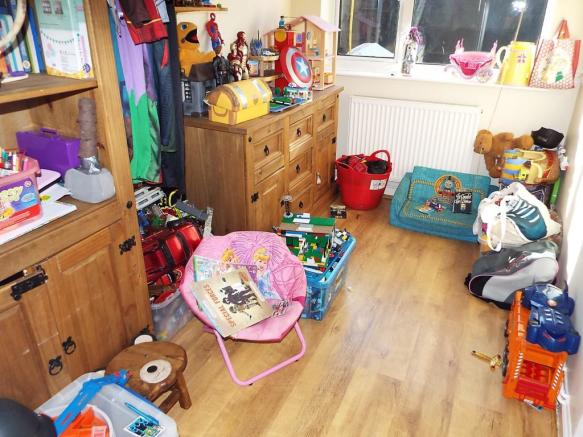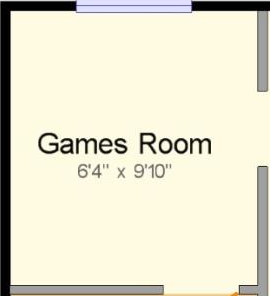 2016
January - We did the thing - We bought the thing
Because we're nice people, and the previous tenants had little ones, we agreed on a date for completion after Christmas 2015, so January 15th 2016 we done the final steps, collected keys etc and completed with the estate agents (well, the other half done that bit whilst I was packing, loading vans, unloading vans and dumping things at the dump)!
After a few days it was time to setup the computer. It doesn't appear I took any photos at this point, but it probably did look much different to what it did in the flat!
February - Starting to expand
I started working with a new colleague, and over the course of the previous couple of months built up a really good friendship. He then told me he was going to be upgrading his monitors at home, and that he would be selling his current 2 identical monitors, which were Asus VH-228. My eyes lit up and the brain cogs started turning, and he was offering them at a decent price, I couldn't say no, could I?!
Turns out, nope, I couldn't, the evening of around 26th February 2016, I went and picked them up from his home!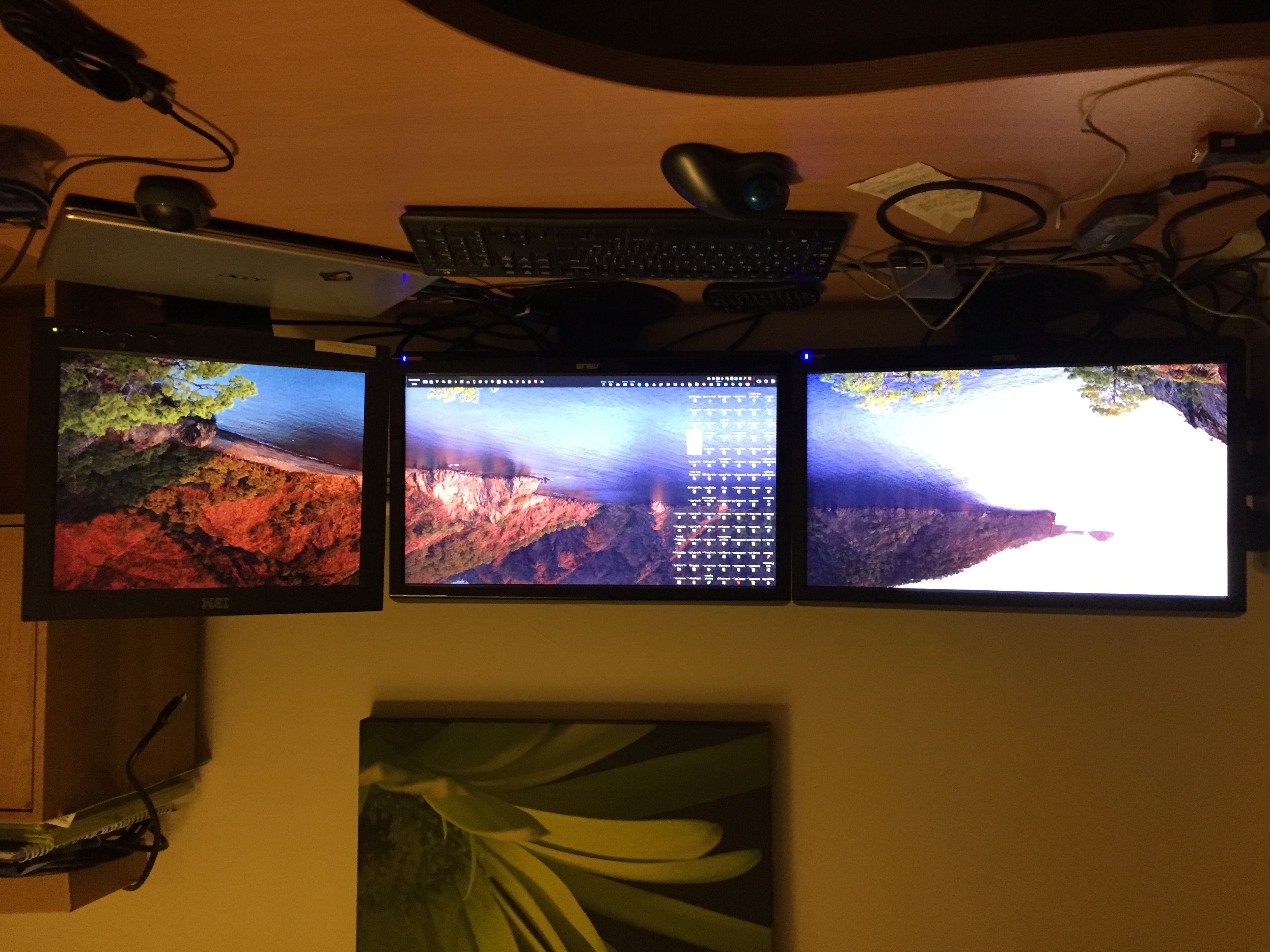 At some point between this and October, I found myself having a browse through eBay, how cool would it be if I found another ASUS VH228 I thought to myself, then I found one, refurbished, for not a lot, I stuck a bid on it and forgot about it!
A couple of weeks later I got the email saying I'd won - what a result!
March - New Laptop/Tablet
I was fortunate to get an annual performance bonus from work, and wanted something a bit more powerful than my Acer V5-571p laptop, and quite liked the look of the Surface Pro. I didn't want to pay full price for a brand new one, but I found an advert on Gumtree, for a Surface Pro 4, with the Type Cover keyboard, and the Surface Pro Dock, a couple of message and a bit of negotiating, we had a deal, it just required me doing a 200 mile / 5 hour round trip, but the negotiation we'd agreed on covered my petrol costs plus change!
July - Time for a holiday!
Nothing here to do with home office, but this was turning out to be a pretty awesome year, not only had we bought a house, we'd also managed to save up enough to do a road trip across the west coast of the states - that may well be a future blog post! But I did manage to pop into and visit Apple and Google whilst I was there, and by co-incidence, it was also my birthday!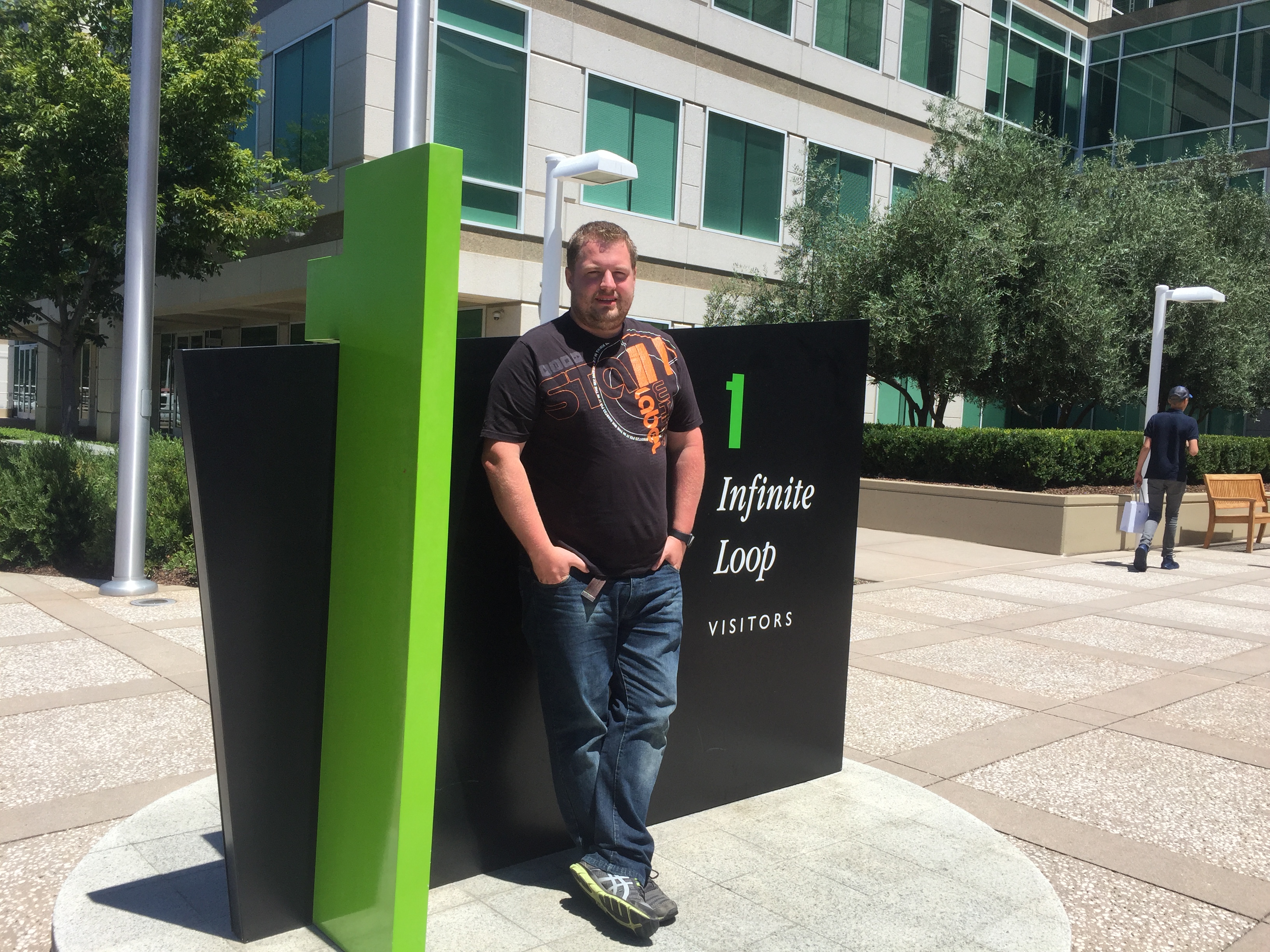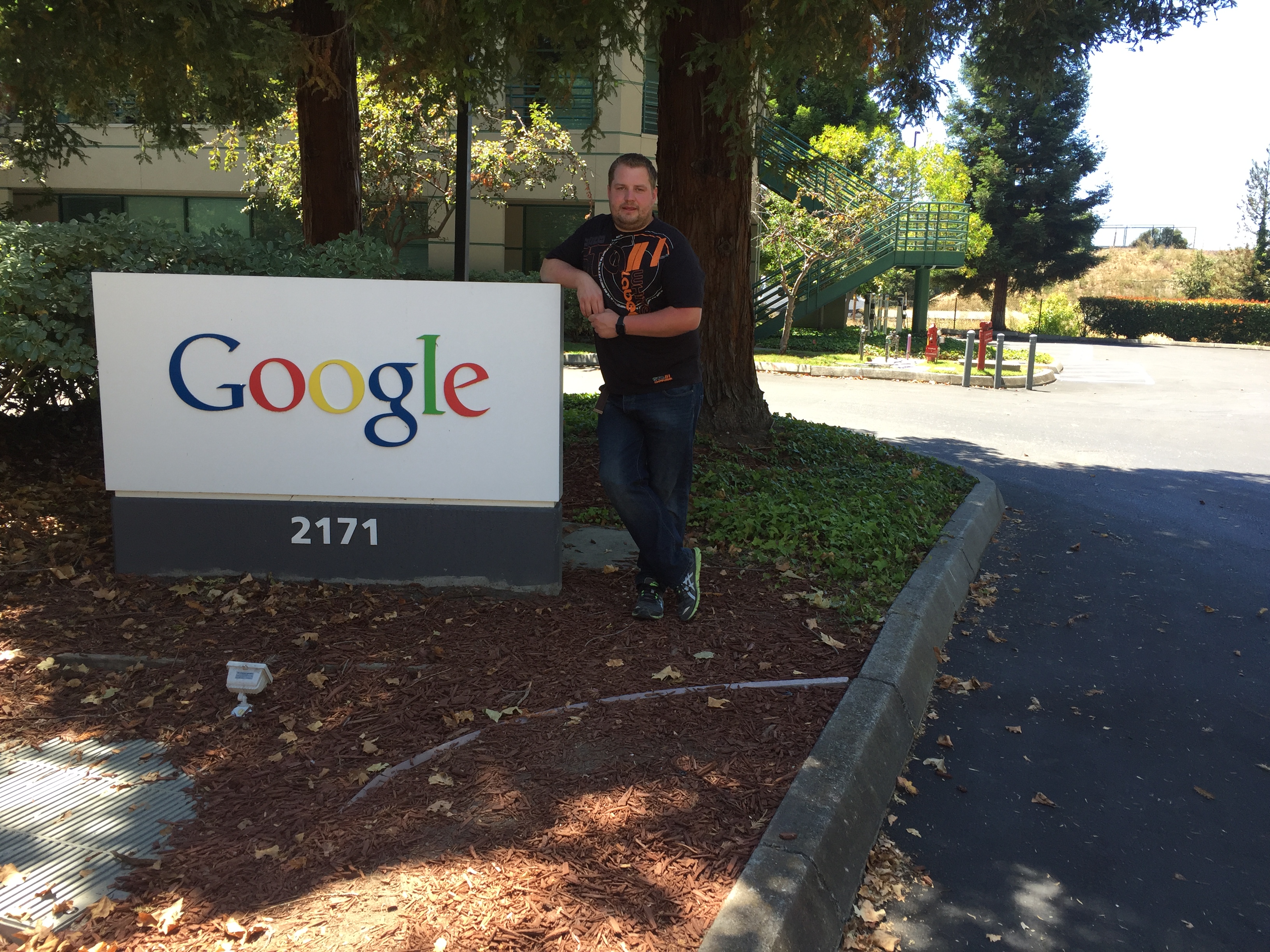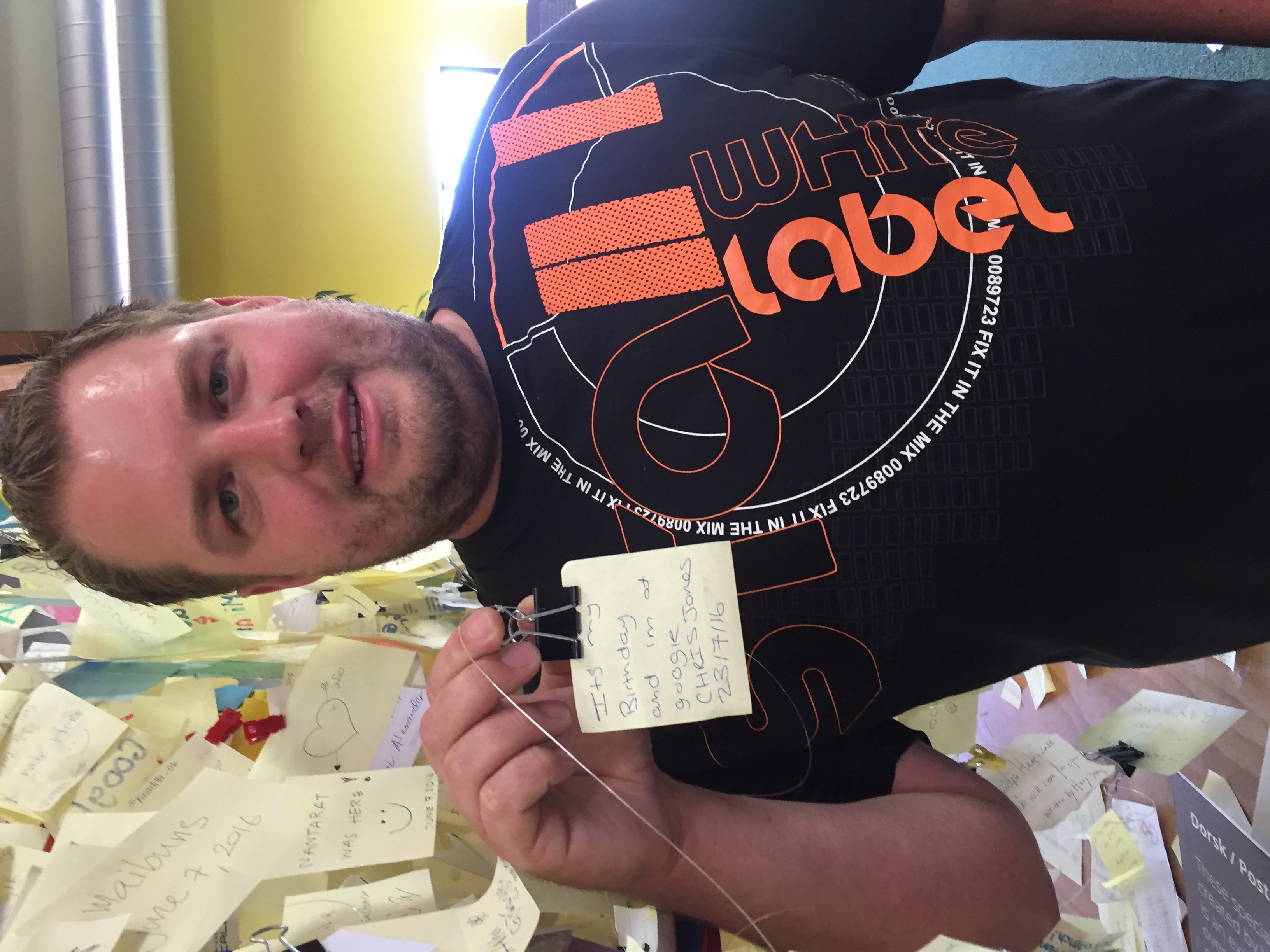 October - Finding ways to create more desk space
I've still only got a relatively small desk, in fact, here's what I had, which was donated to me by a member of my other half's family when we moved in!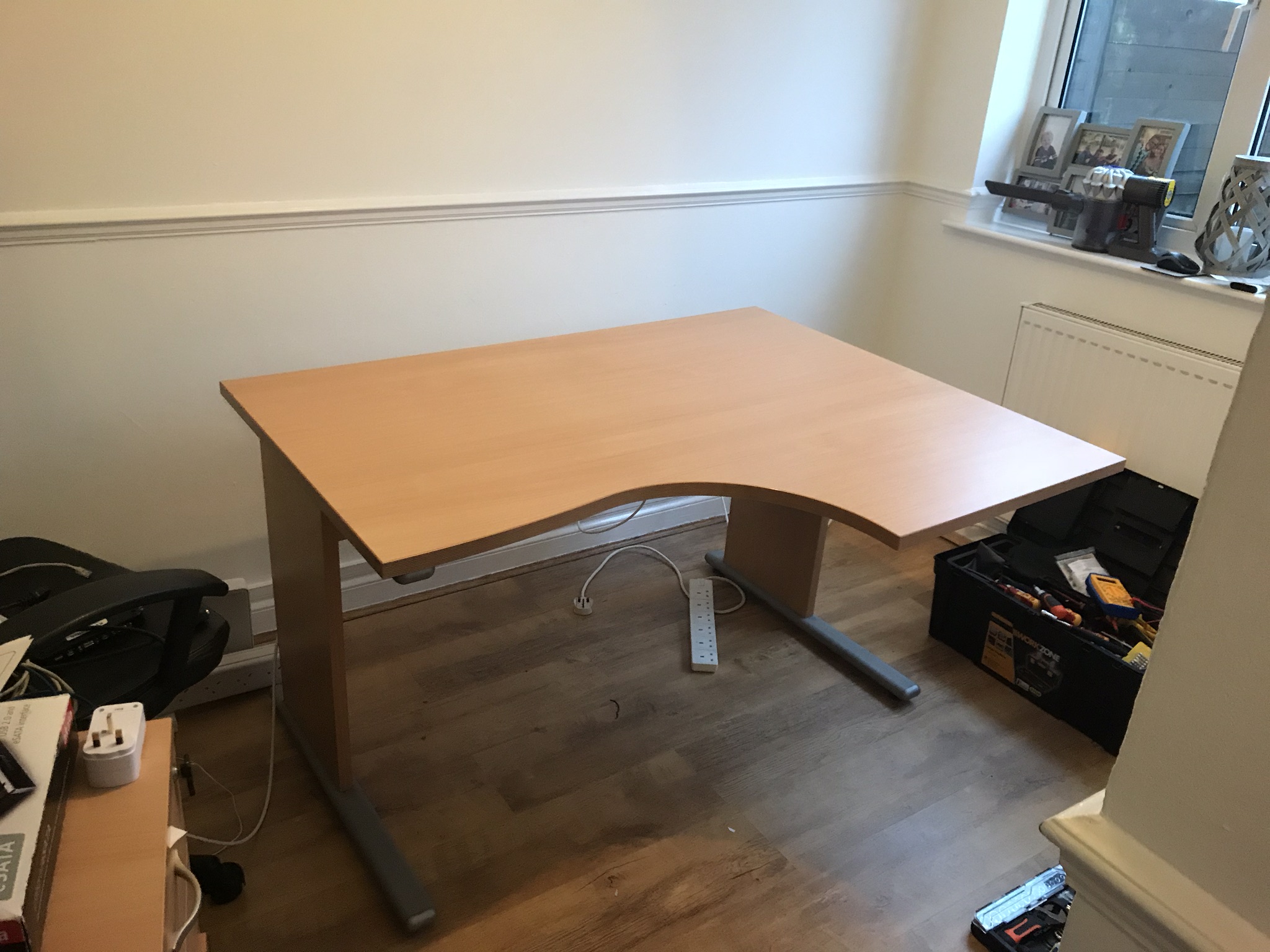 I searched around for a bit and finally decided on getting this, I got some vouchers from work which I converted to Amazon vouchers, which meant I effectively didn't pay for it - result!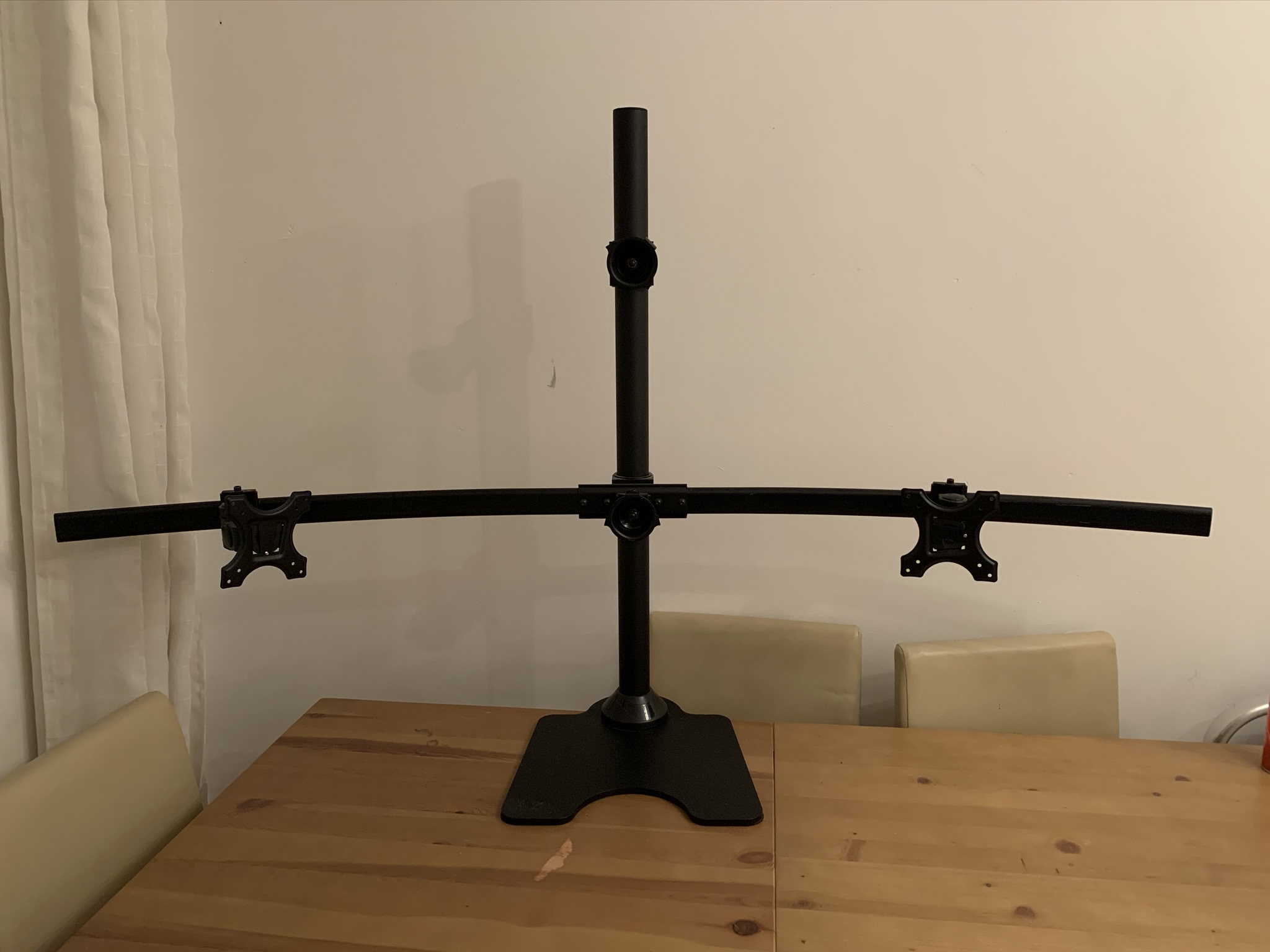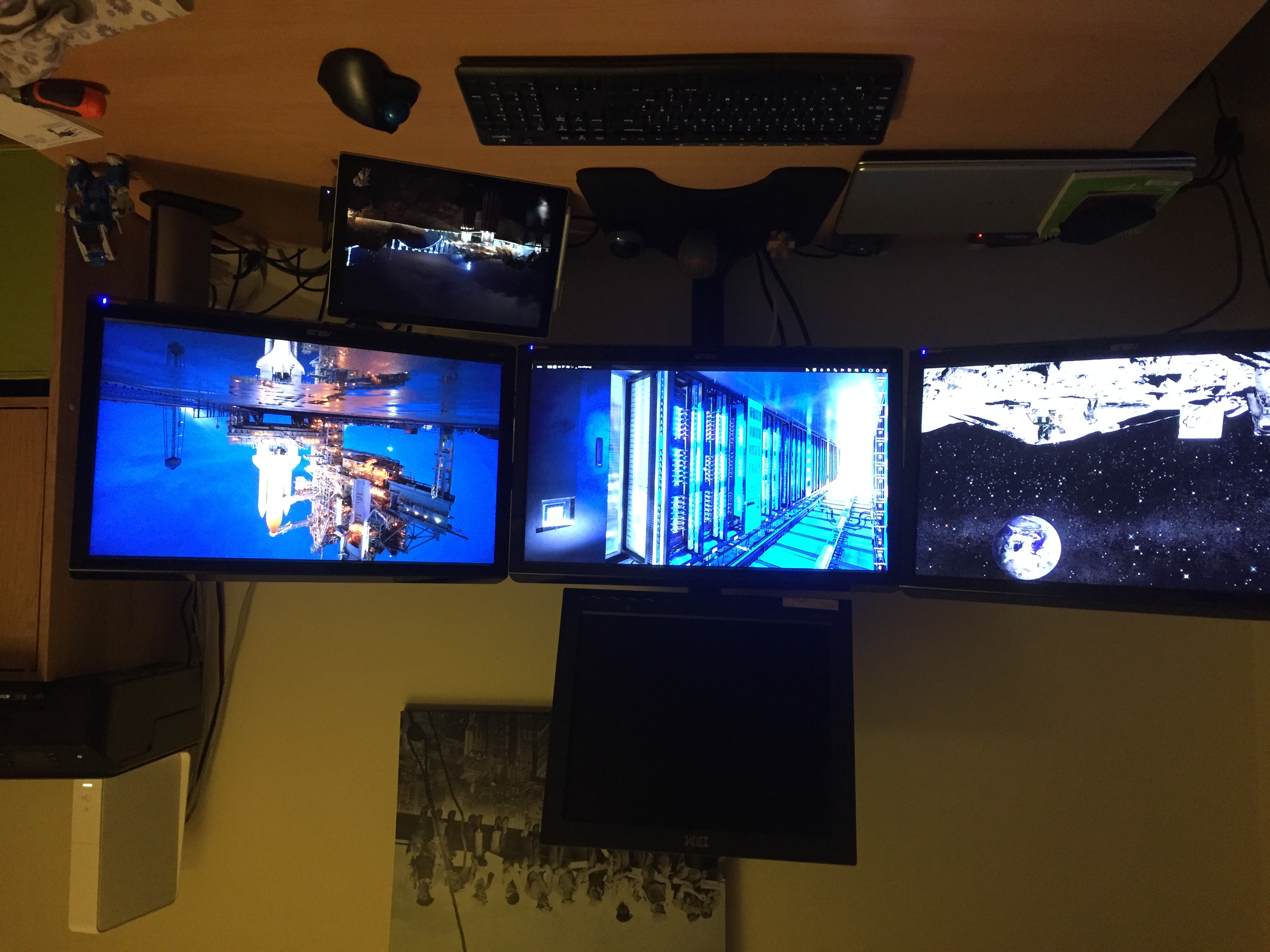 2018
Fast forward - March
The trouble with my work office location, is its right opposite a John Lewis department store, like less than a 60 second walk door to door, so normally a couple of lunchtimes a month (or sometimes a week), is spent having a wonder over there and just browsing around their tech department, this can be dangerous from time to time! On a particular day in March 2018, something caught my eye, something I didn't need, but was/certainly would be a 'nice to have' item.
What was it?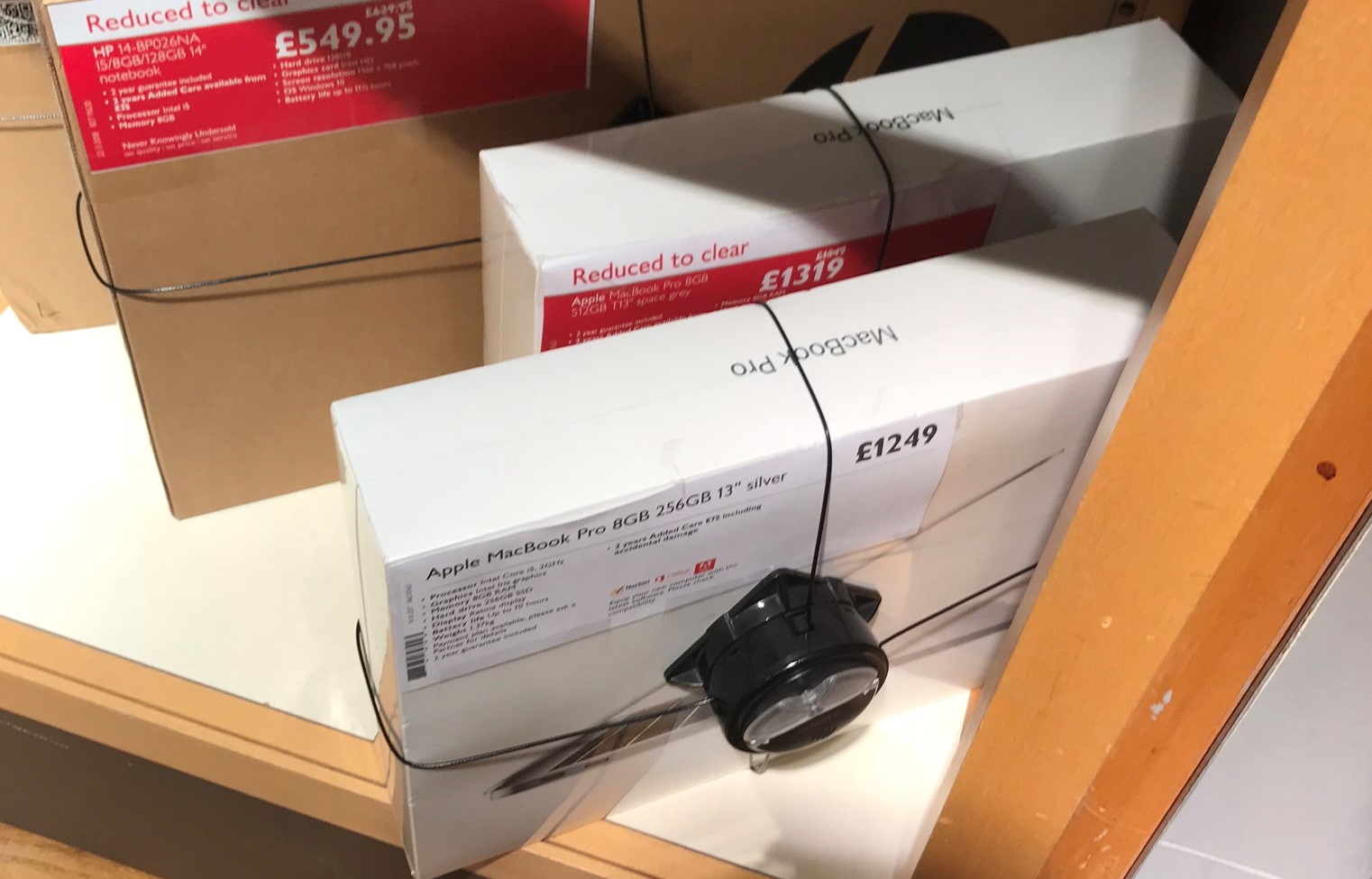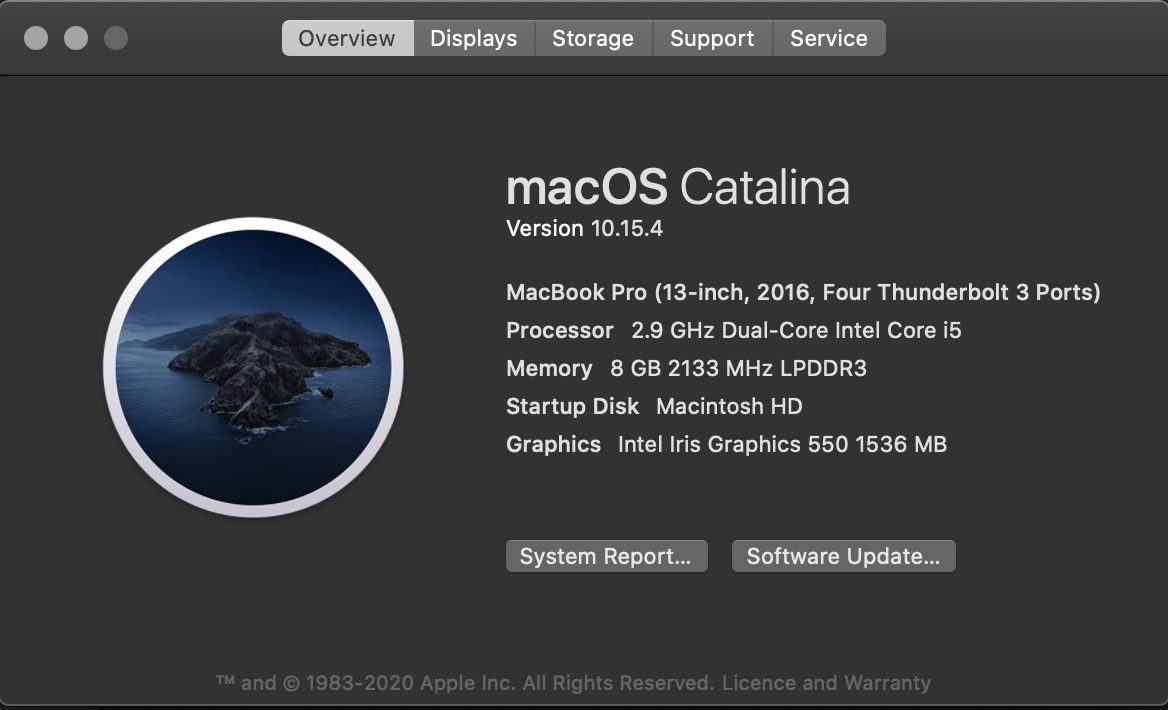 Sometime also during this month, we visited our local IKEA, its only a relatively small shop, which doesn't stock a huge amount, but its still dangerous.
We'd done a little bit of planning - not a lot - but still came out with the following on order
1 x 2x4 Kallax Unit
2 x 5 drawer Alex Units
2 x Linnmon Desktops @ 120cm x 60cm (w x d)
2 x Lack shelves
There were some other bits too, but they were for another room!
At some point near the end of March, the delivery turned up, time for a bit of a spring clean (my desk also had flipped from one side of the office to the other at some point during this too)!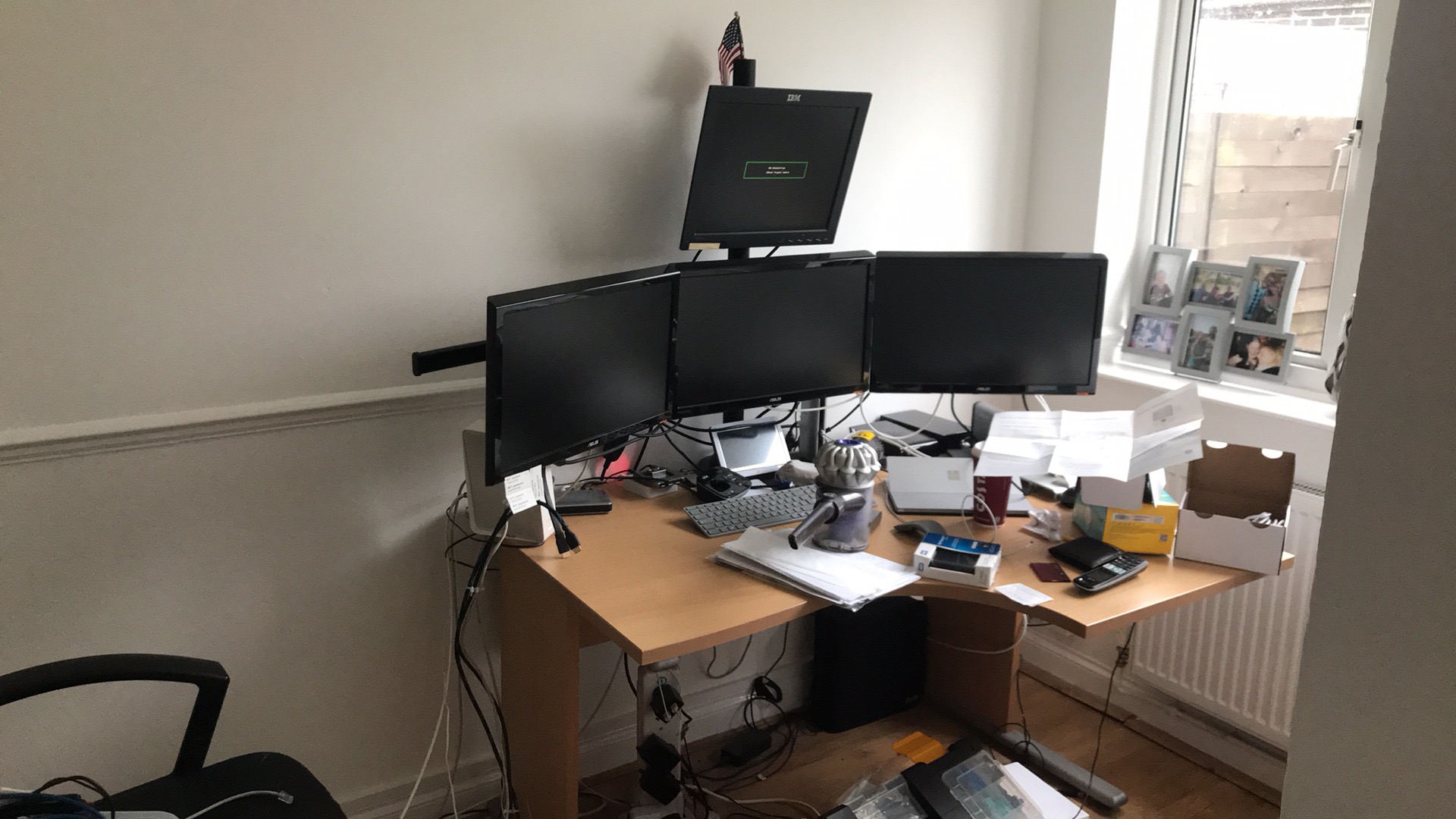 It then became clear, I had to empty the whole office, everything had to go!

One thing the other half convinced me to do, was to remove that dado rail, that turned out to be a bit of a bigger job than I'd hoped!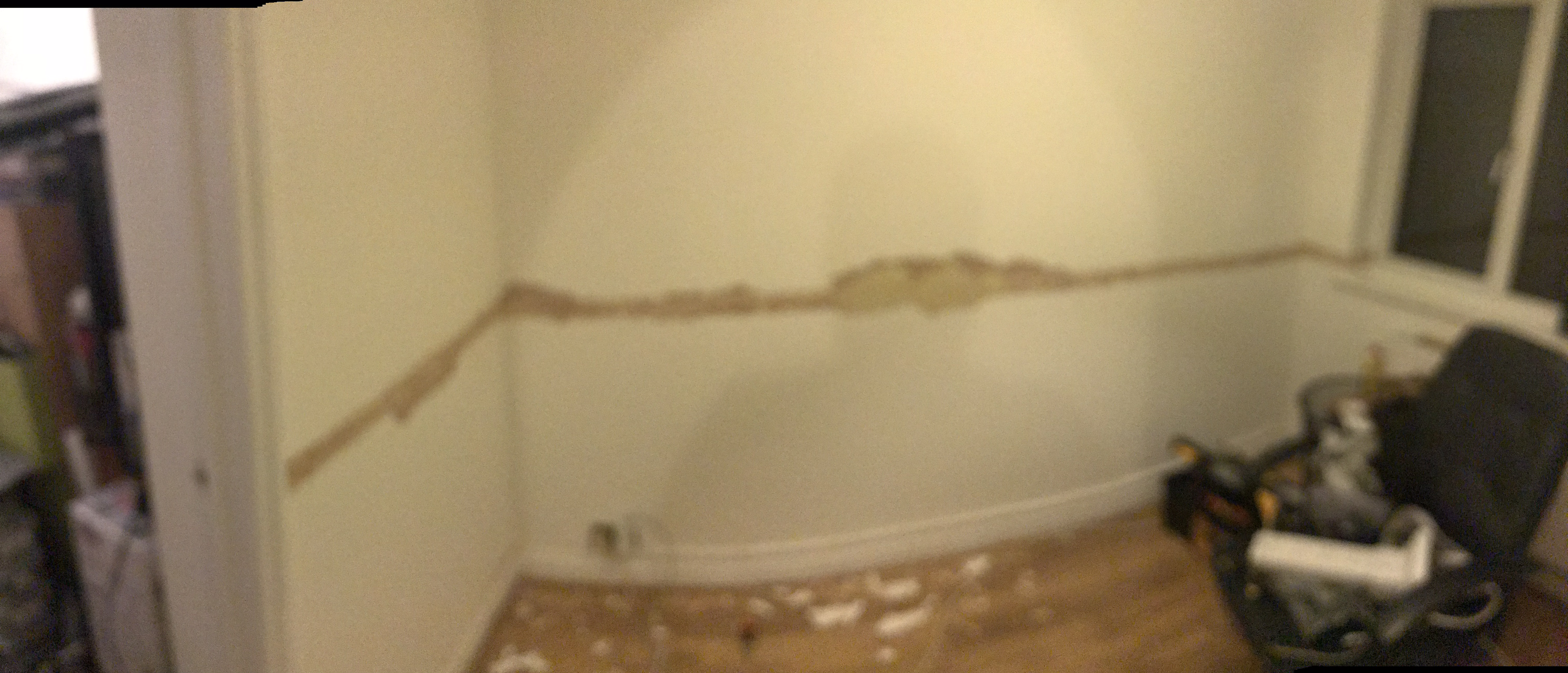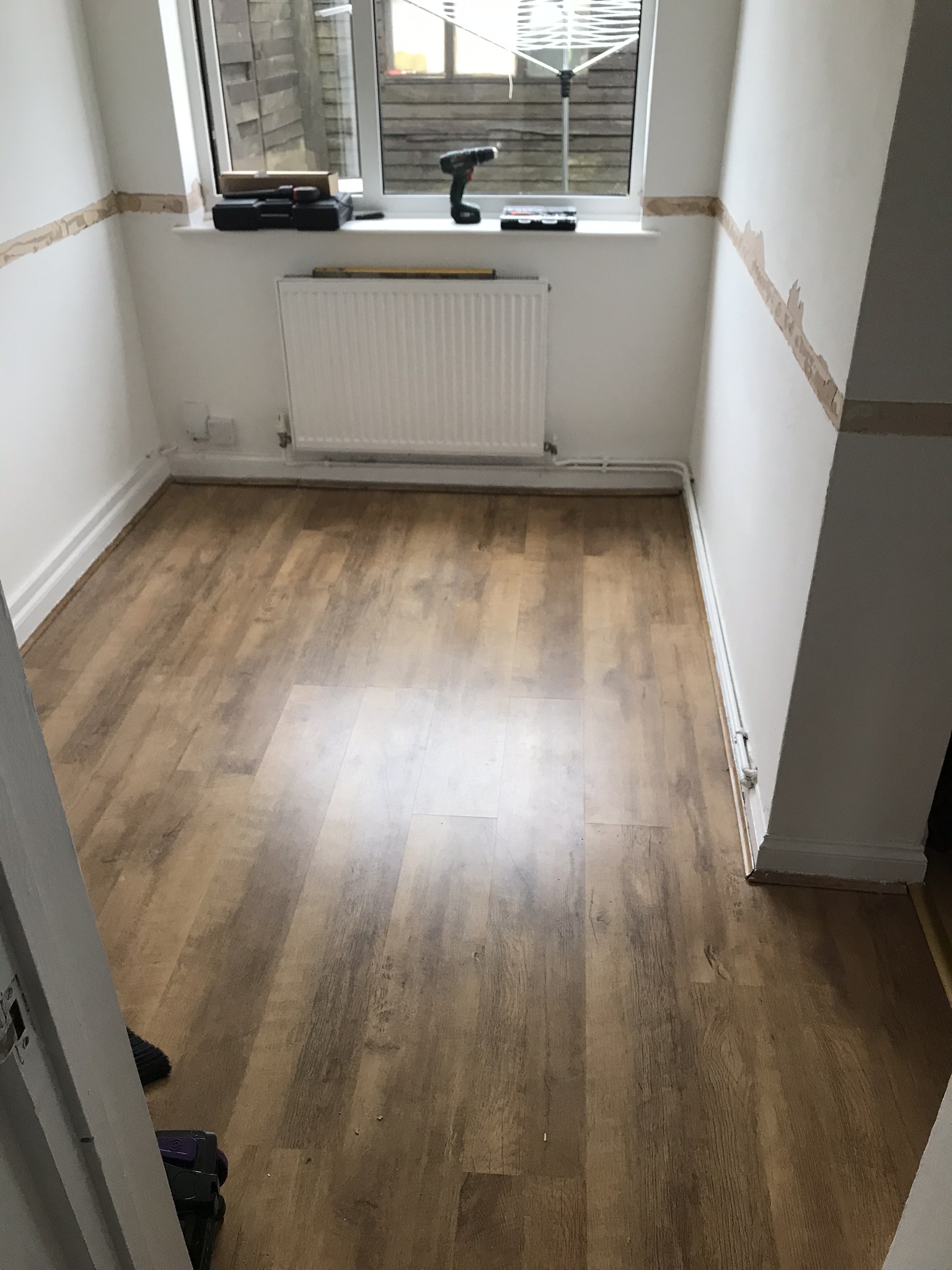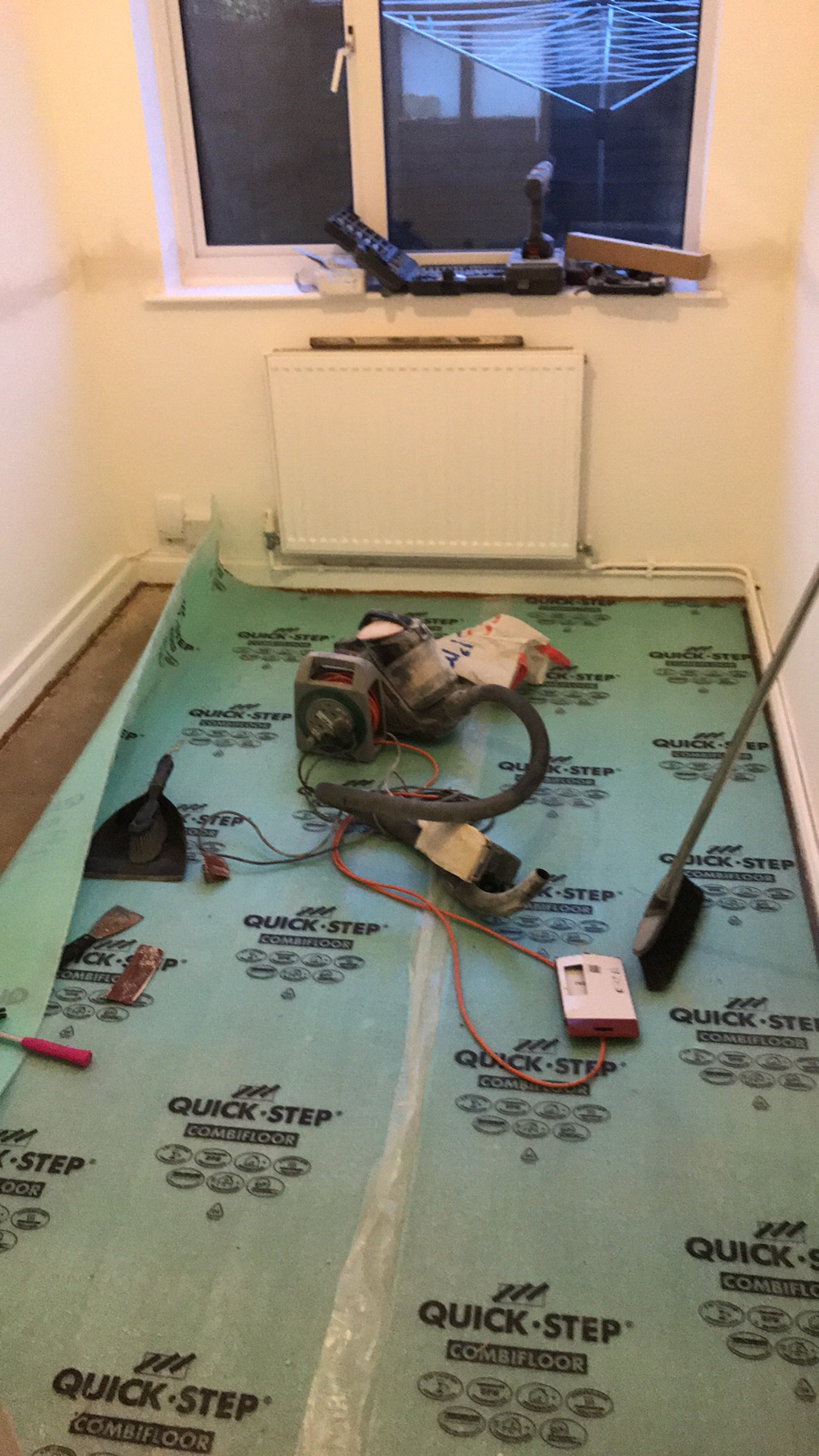 April - Renovations begin
Now we're in April, most of the patch up work has been completed, painted and new laminate flooring laid, and the beginnings of the IKEA furniture assembled!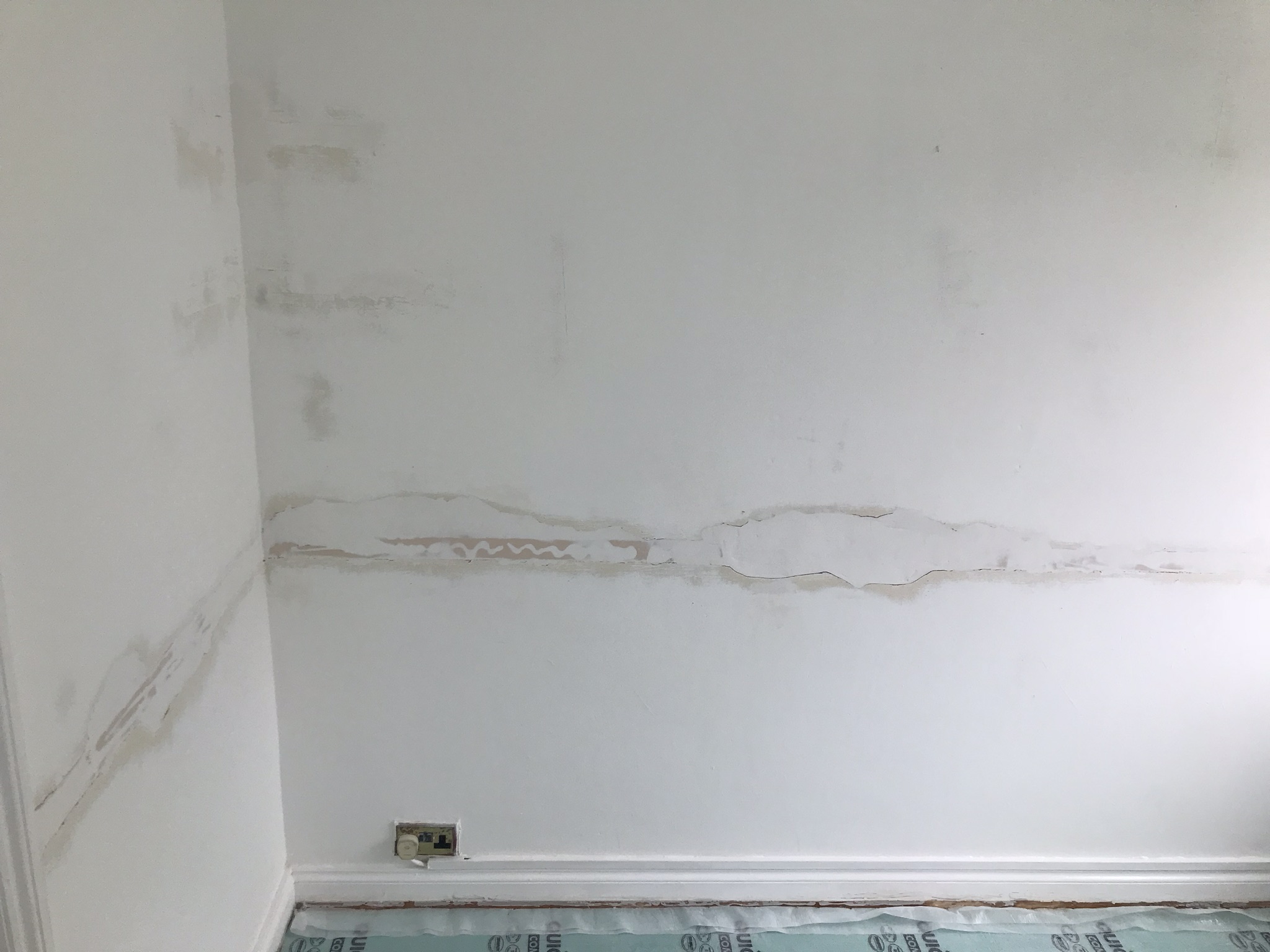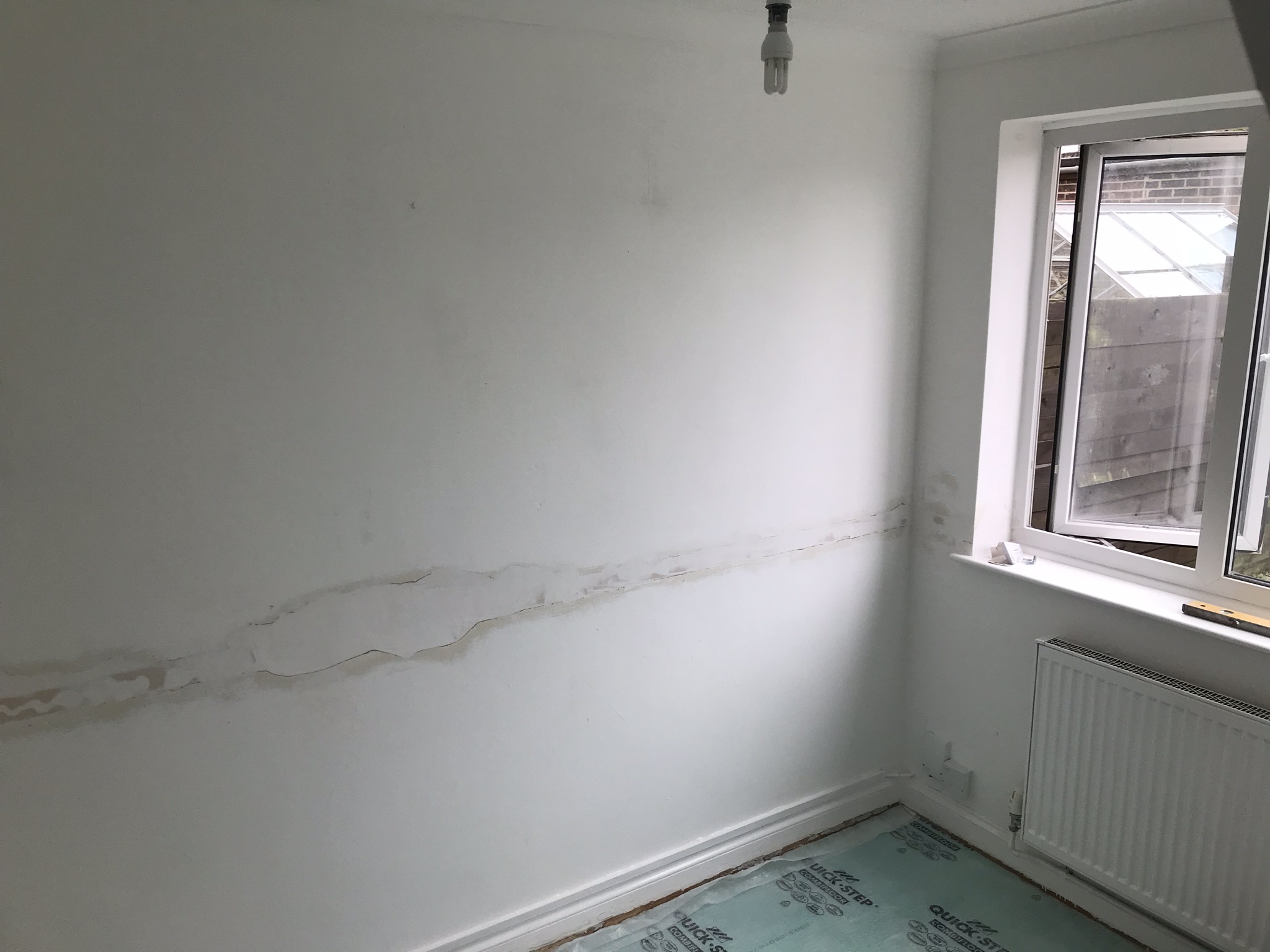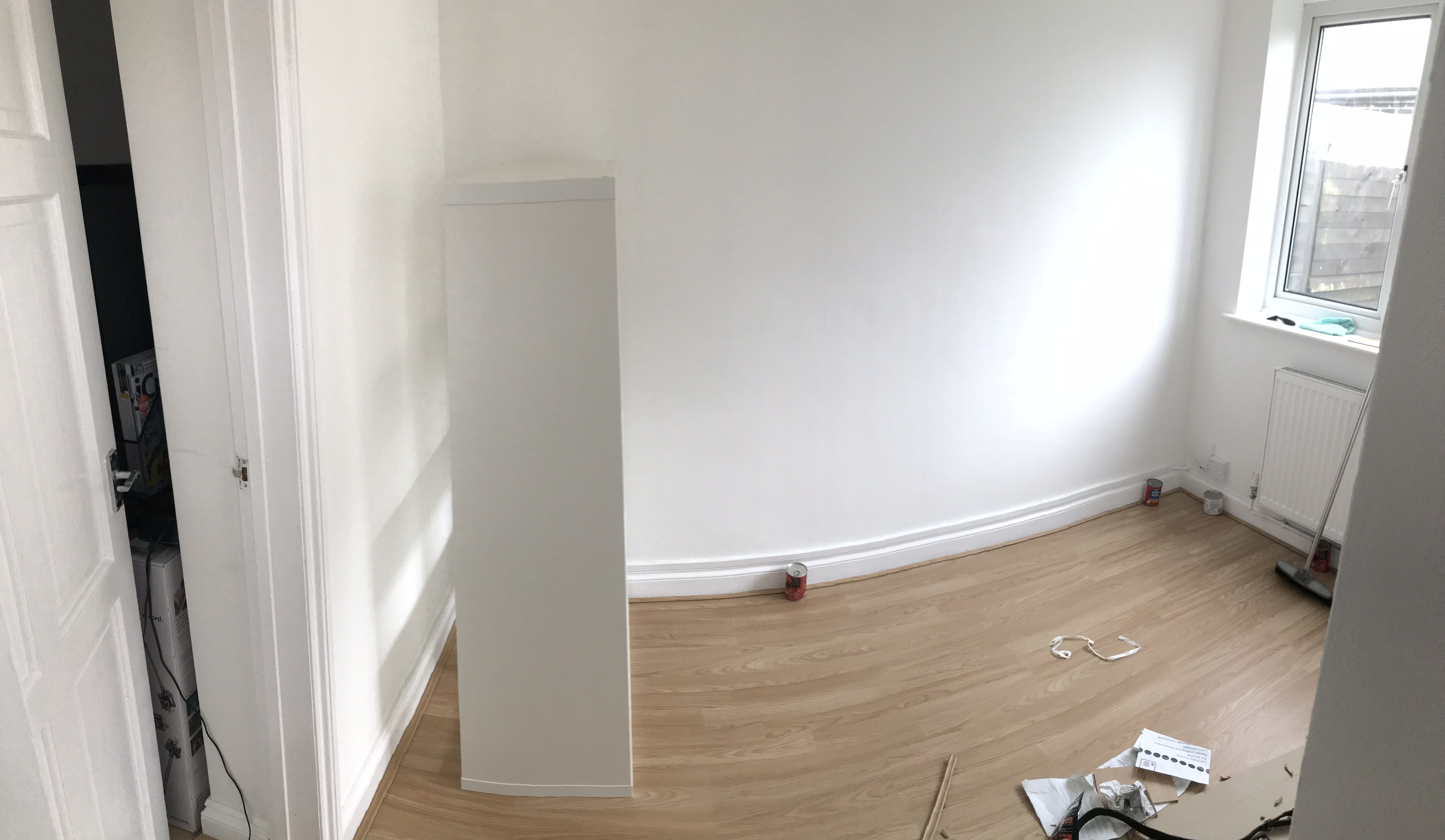 Now its time to get the rest of the furniture assembled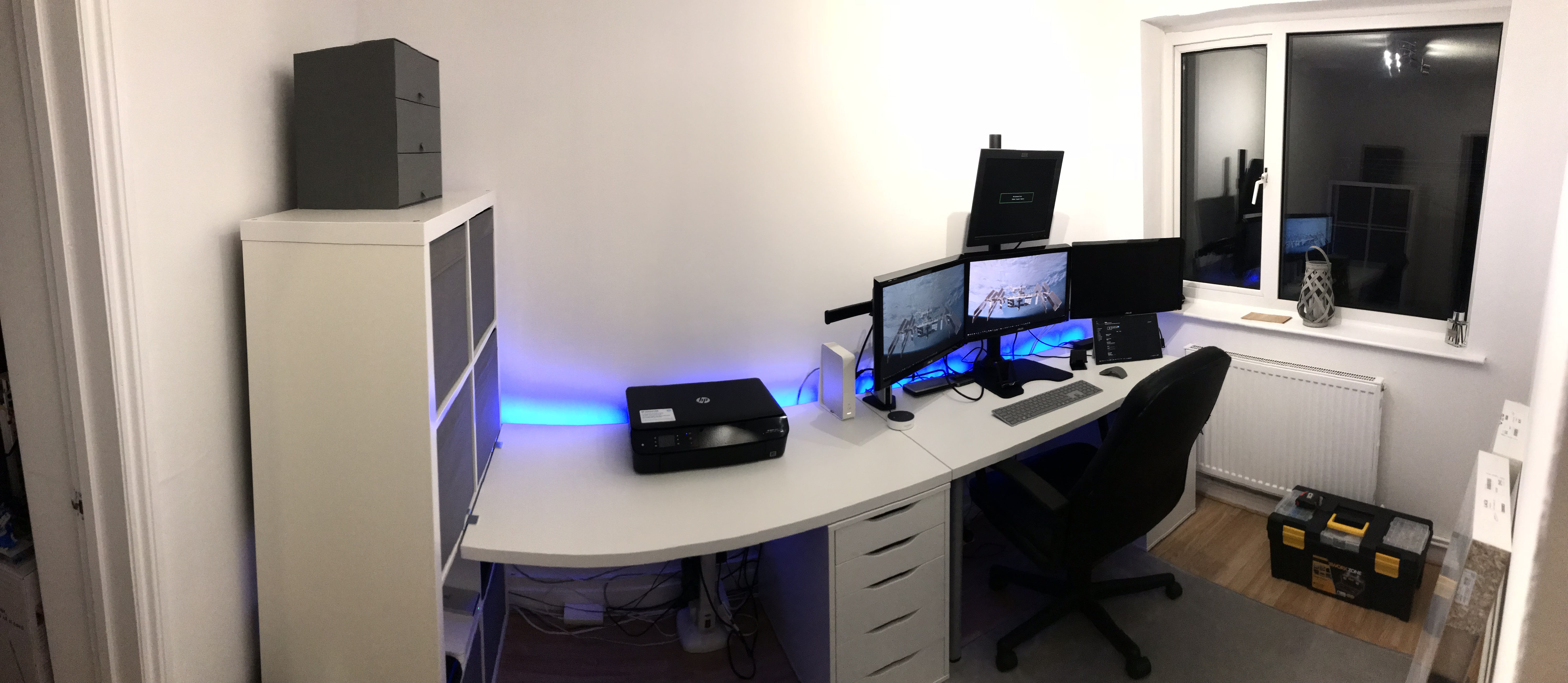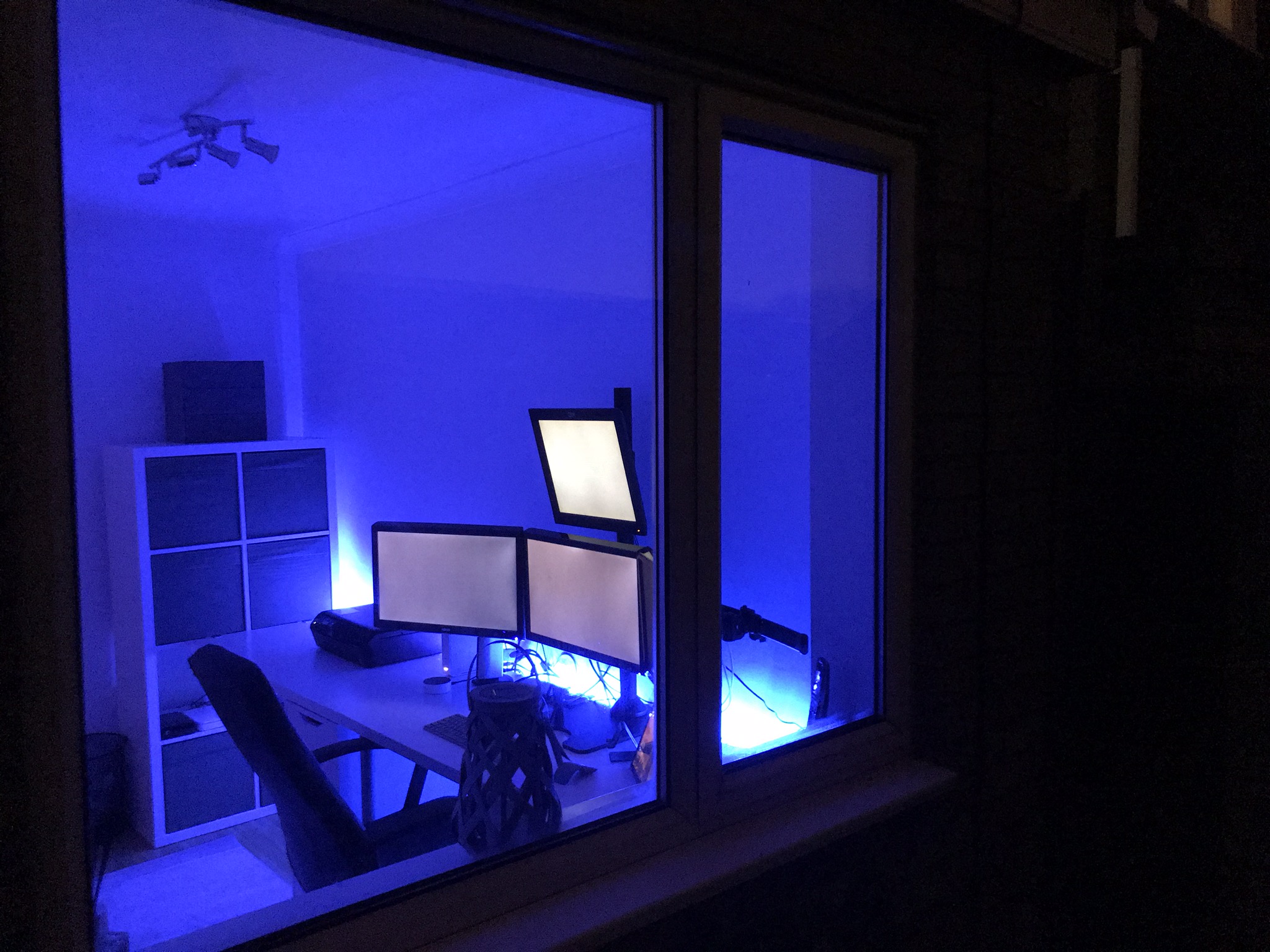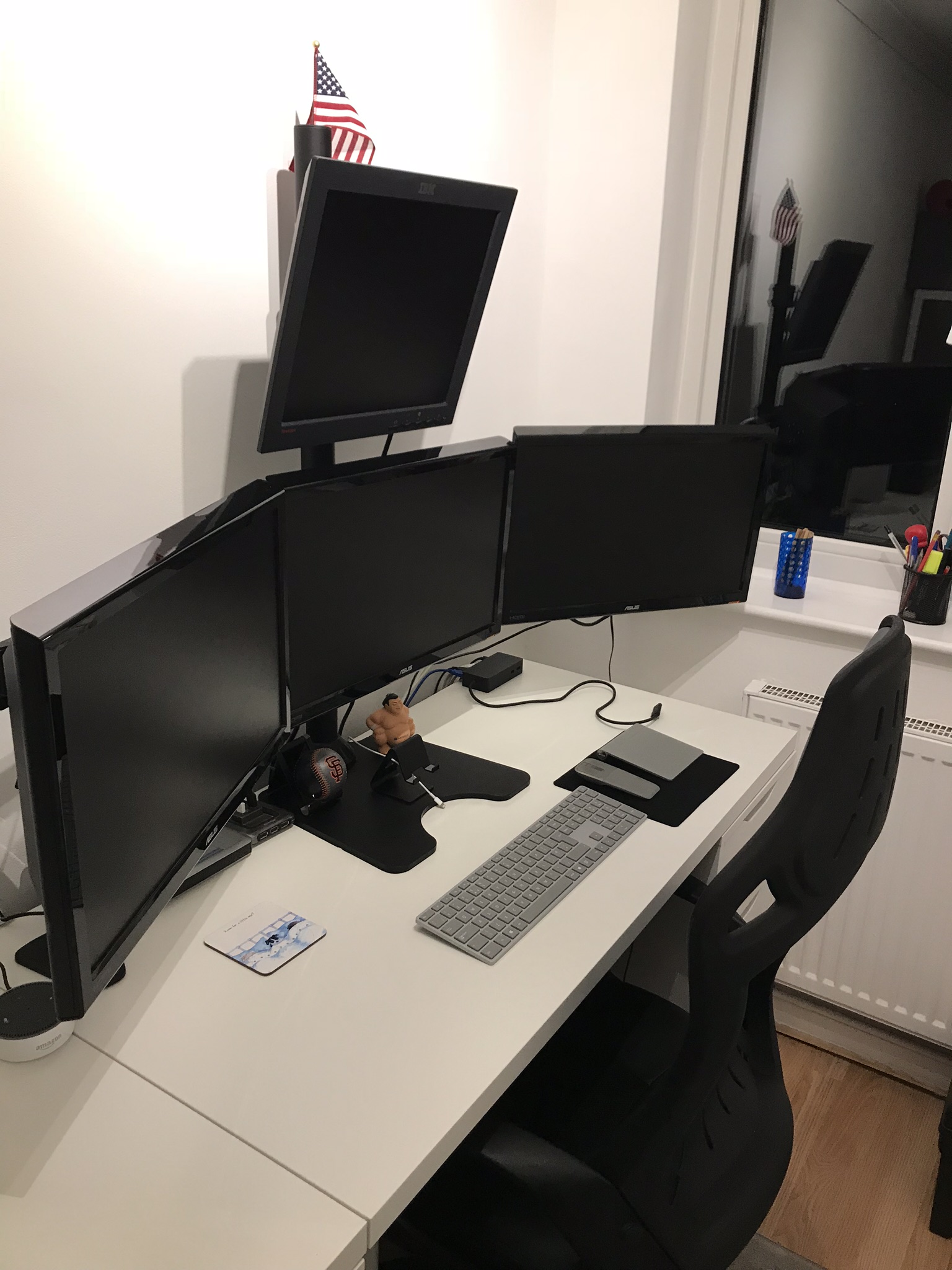 2019
New Years Eve - 2018/19
I'm not a massive consumer of alcohol, I'm not tea-total - but having previously worked in a pub and having to deal with people who were under the influence, kinda has put me off.
I was round a family members, and pretty much everyone else was drinking, I was driving so was just sticking to soft drinks as usual. I was having a look through my phone, then saw a tweet from a streamer I had relatively recently discovered on Twitch, a certain csharpfriz!
It was here, that I decided I might give streaming a go, I had a project in mind, something I'd kind of already started but stalled. I might blog in more detail about this, as it didn't really go to plan, but I wanted to give a bit more context as to why the next upgrade happened!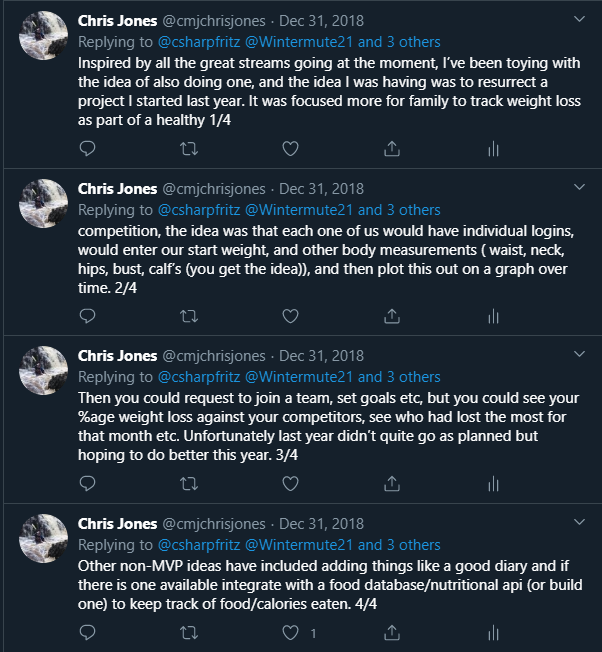 January
So, I decided to dip my toe into the streaming world, I got OBS setup with some basic scenes, and hit that go live button.
Unfortunately I was quite naive in terms of hardware to run a decent stream! I was attempting to do it from my Surface Pro 4, it had an i7 with 16GB RAM, I thought that would've been enough - and it might of been if I wasn't trying to also use Visual Studio and Docker at the same time.
I consider myself to be fairly technical, but certain things may have passed me by. I've never been much of a gamer so didn't really follow too much all of the advancements in terms of video cards (GPU) over the last decade or so, as mostly I was learning to write code!
After 3, pretty awful streams of basically me waiting for my surface to respond, I decided to go on a hiatus with streaming, until I could get something a bit beefier for my streaming adventure.
May
1st - Enter a new PC
So I'd been keeping an eye open for something I thought would be half decent for streaming, I started looking for 2nd hand gaming PCs because I knew I needed something having a dedicated GPU.
After looking at quite a few, I finally found one in the sort of budget I had, and it seemed quite reasonable for the price. I don't have the speccy screenshot for it, but, after I made my first upgrade I do.
The specs were: - Intel Core i7 4790k @ 4.00GHz - 16GB RAM - Asus Z97-A Motherboard - MSI GeForce GTX 970 4GB - 120GB Samsung SSD 840 EVO - 2TB Seagate ST2000DM001 SATA III HDD - ASUS VS239 Monitor - Corsair CX600 Power Supply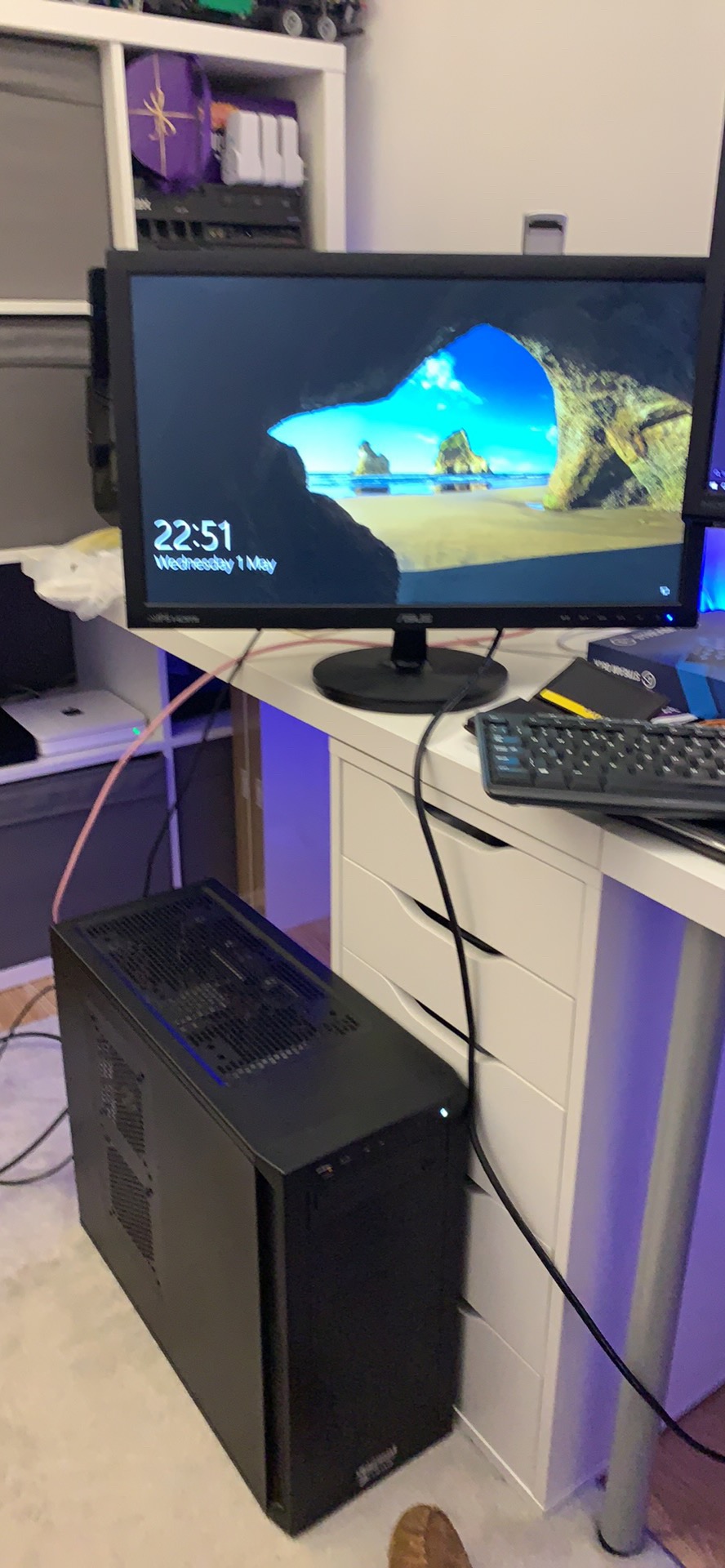 I didn't really need the monitor, but the guy I bought it from didn't want to split so I took it - after all, I could replace the 19" VGA only top monitor you saw earlier!
On the way home I stopped off at my local PC World and picked myself up a Streamdeck - another piece of hardware common with streamers and non-streamers alike, but it was something I had on my wishlist and was fortunate that I had some vouchers and discounts I could use!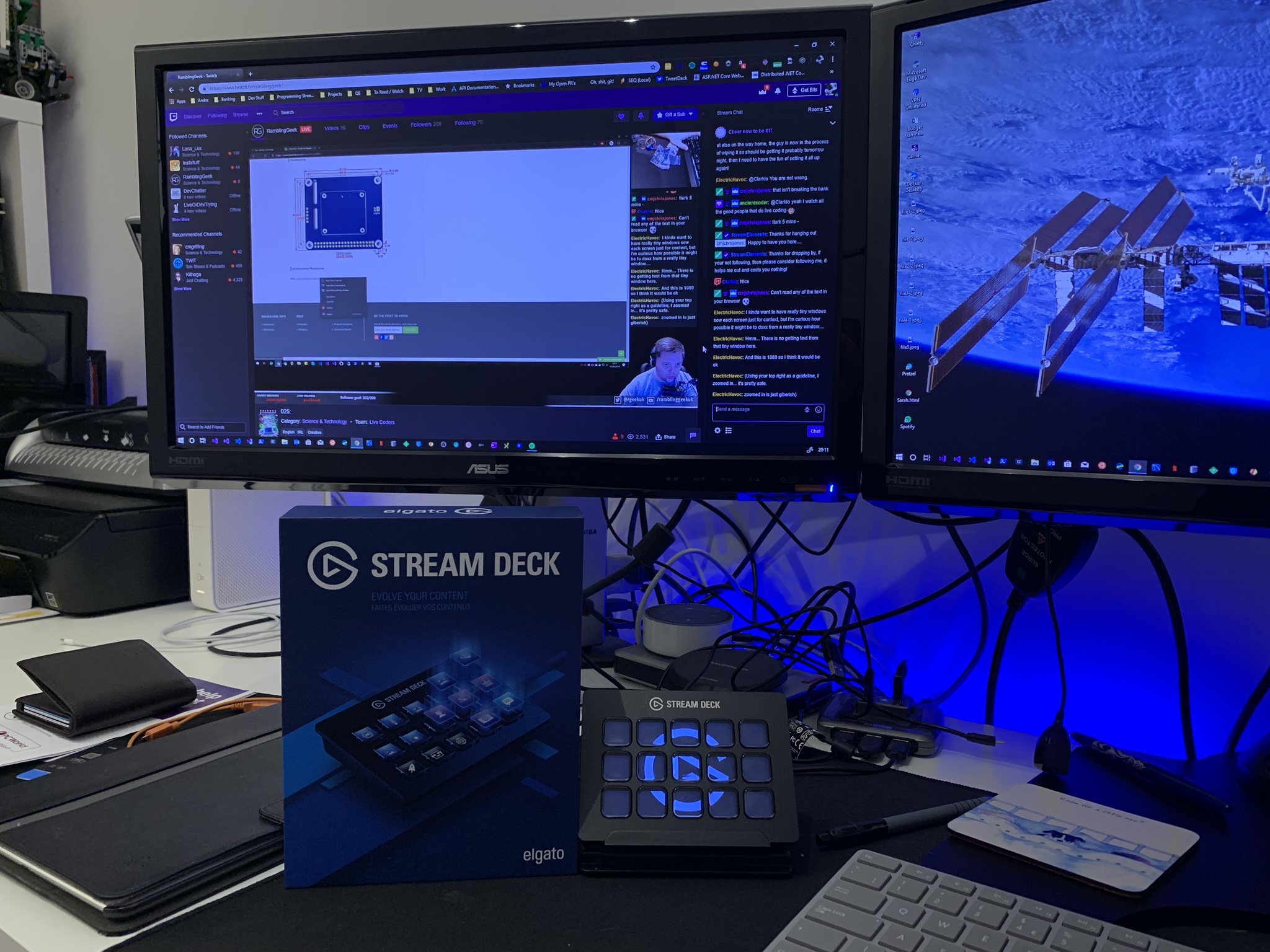 I then went about looking to see what upgrades I could do, I checked the motherboard specs on Asus' website and found the max memory it would support was 32GB, it already had 16GB in 2 slots, so another 2 x 8GB chips would get me to the max supported!
3rd - Time to go shopping
So with some of my new tech, it was time to do a little bit of shopping, I had a small shopping list in mind:
Star Wars Day (May 4th)
I had taken a stick out just to see what it was and to photograph it on my phone so I always had the details to hand if needed.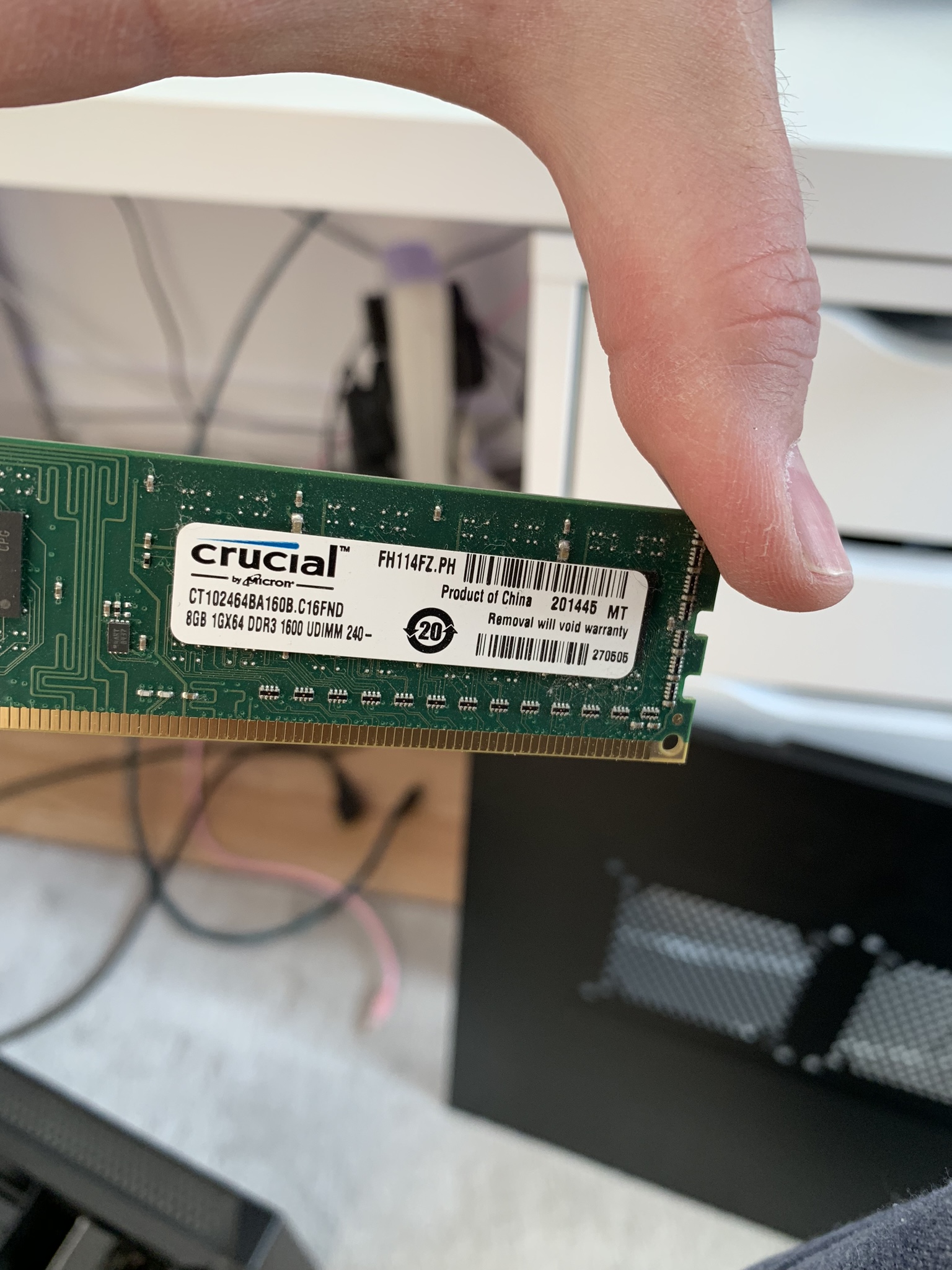 A couple of days or so into using the new PC, and getting bits installed/upgraded, I noticed it had developed its first fault 😒
It had developed a squeak on one of the fans - investigations started. Typically my luck, it wasn't any of the case fans, but the fan inside the PSU.
May 9th - first issue identified
I did some googleing, and found that I might just be able to lube the fan bearings, I had no idea where I might be able to get some appropriate oil from. I found that apparently sewing machine oil might be OK, and if you remember earlier, I said my work office is opposite a department store, well in that store they have a small haberdashery department, so I nipped over there and managed to pick some up.
Tearing down the PSU
OK, so I get home that evening, and decide to fix it! It wasn't too difficult, a couple of screws to take the panel of the PSU to gain access to the fan, then I had to remove the fan as the part where I could lube was facing down with no access.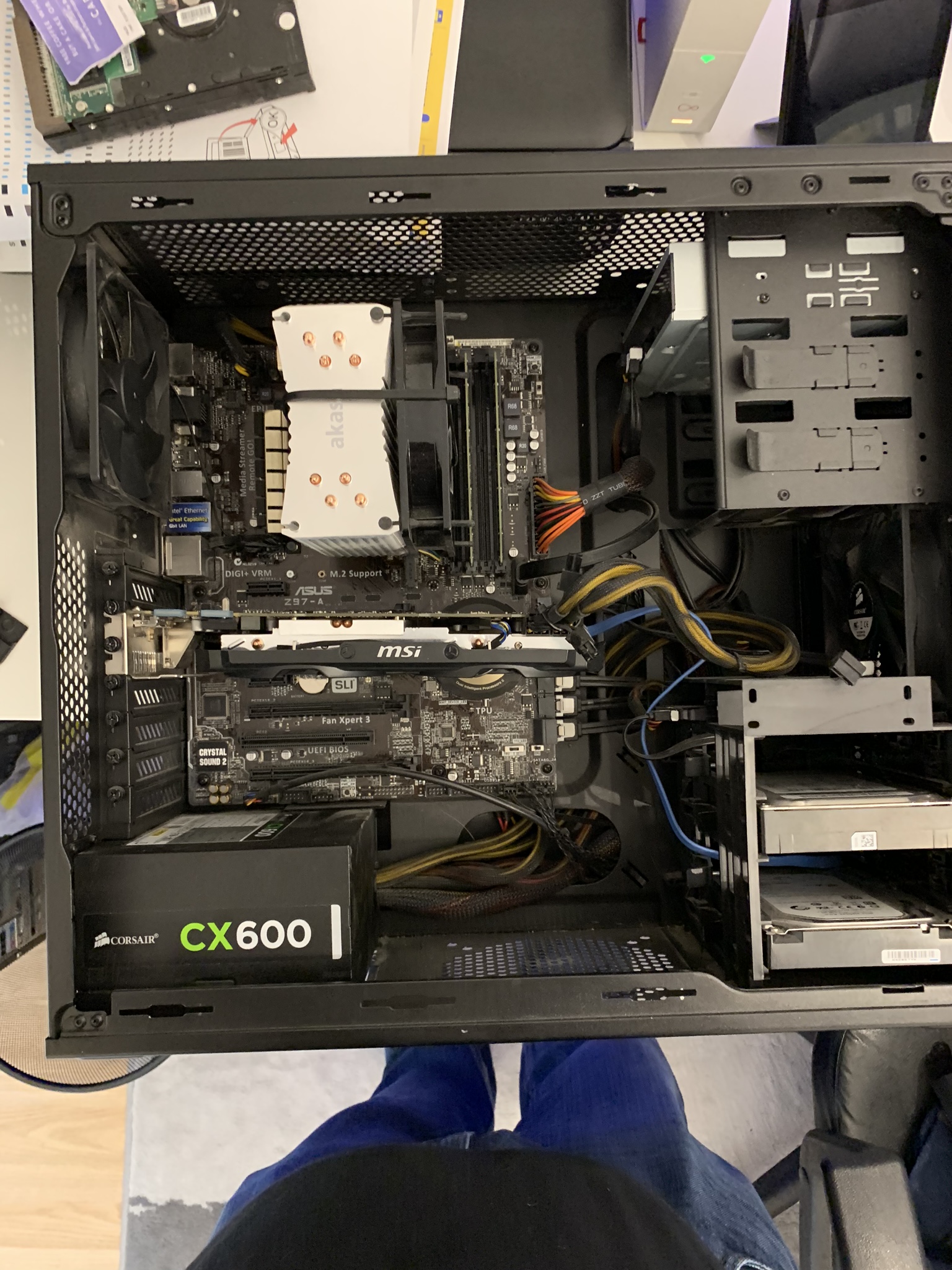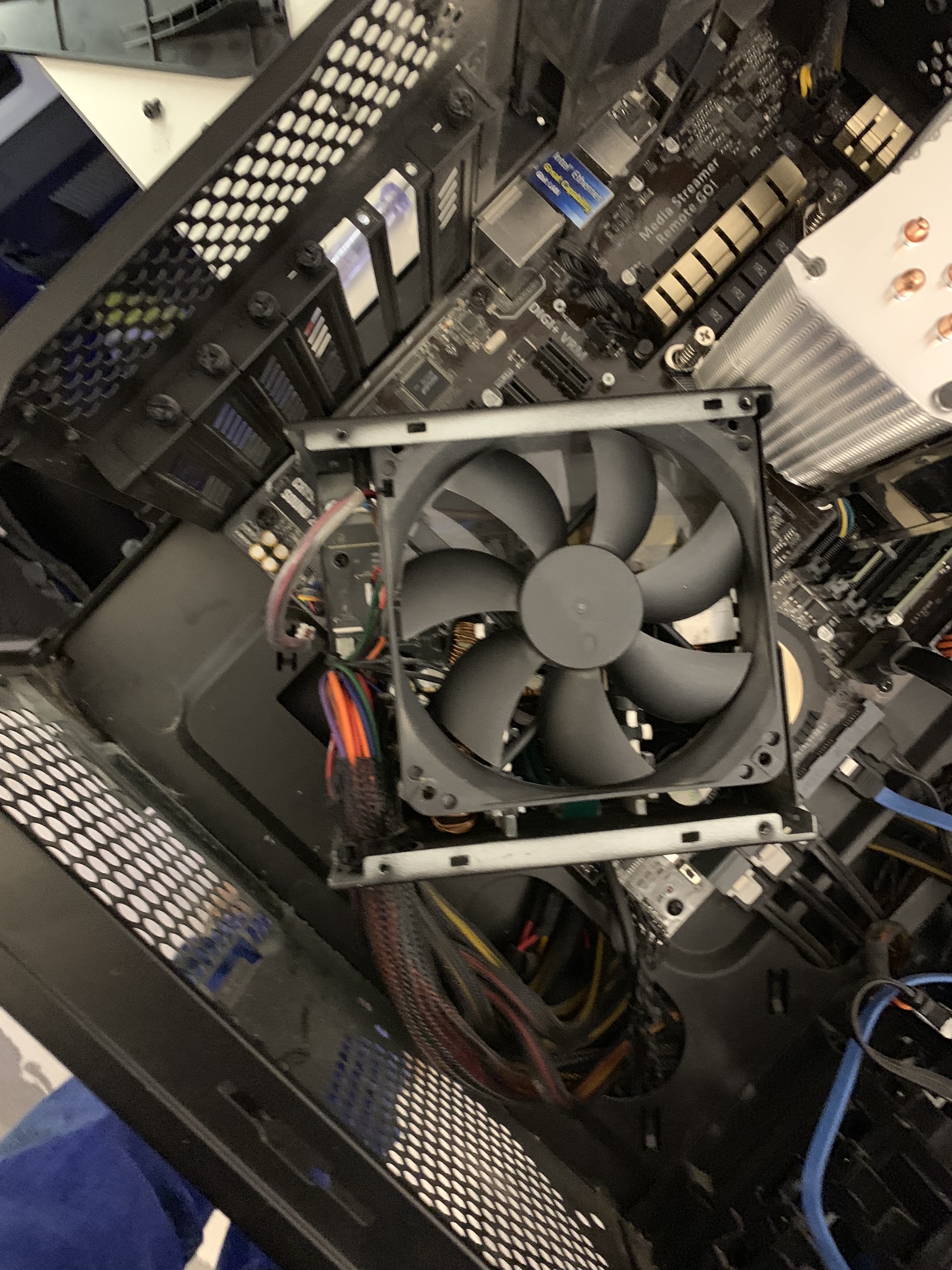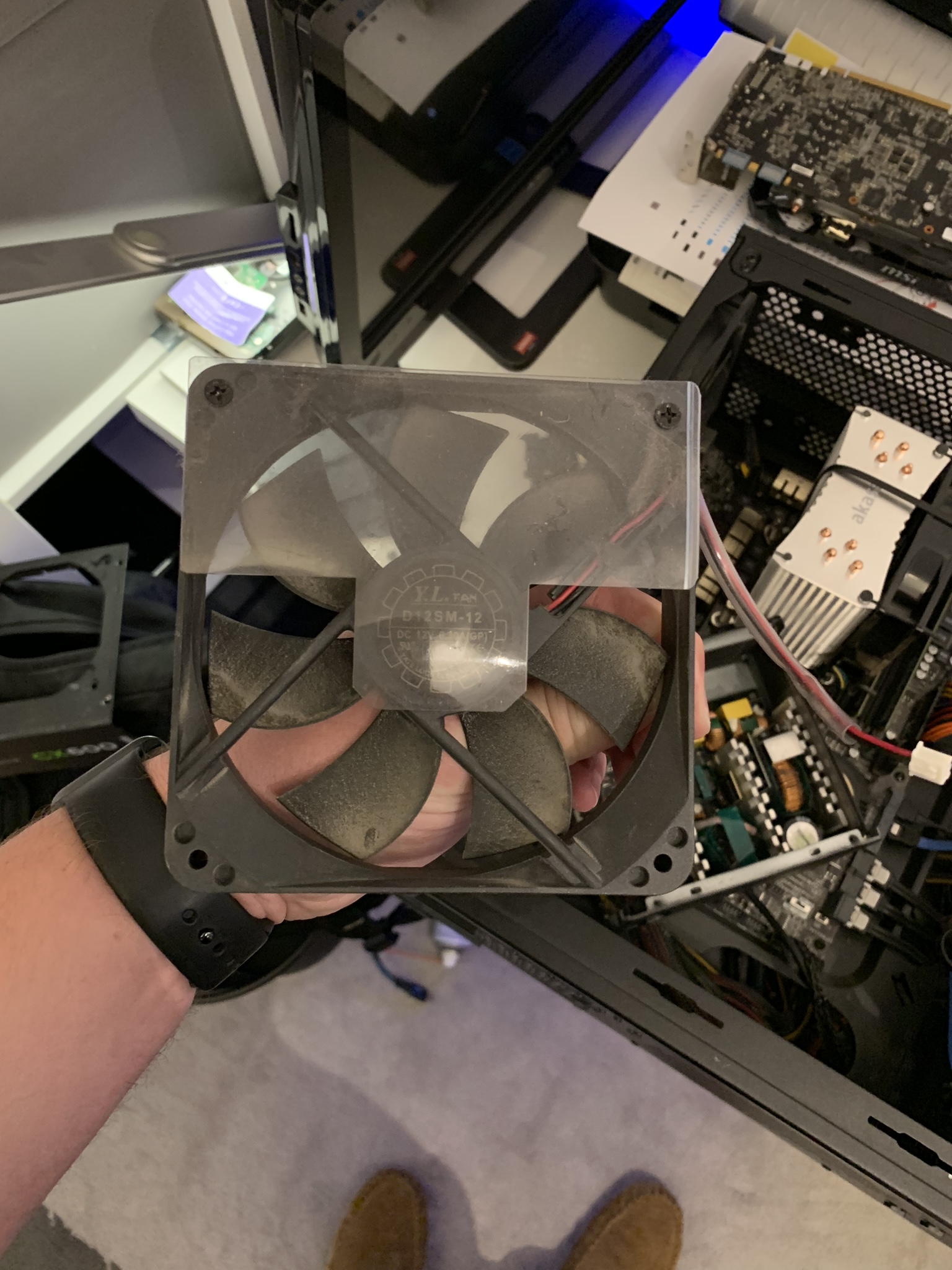 May 10th - The First Upgrade
During a bit of downtime (think its called waiting for a build to finish), I just happened to be flicking through Facebook Marketplace again, and low and behold, a college student had just upgraded his rig and was selling 2 8GB modules, same clock speed etc, I had to strike while the iron was hot!
Technically speaking, its always advisable to always buy chips all at the same time, as occasionally you might end up with a different revision and this can cause problems.
On this occasion I threw caution to the wind, so I messaged him and later went to meet during my work lunch break.
That evening I got home, and plugged the new modules in - first time one of them wasn't recognised but I did the 'take it out and put it back in again' thing, and it worked - happy days!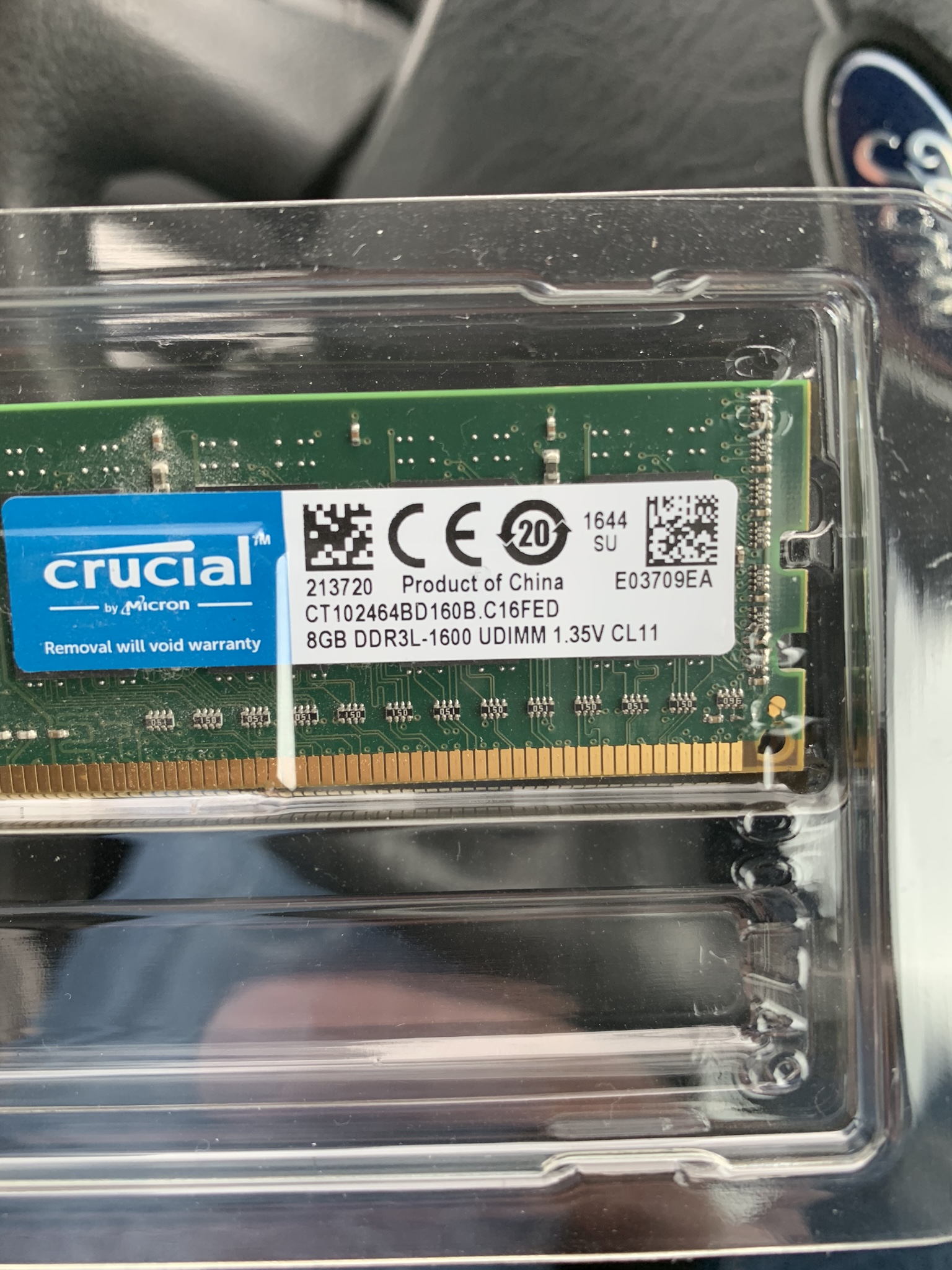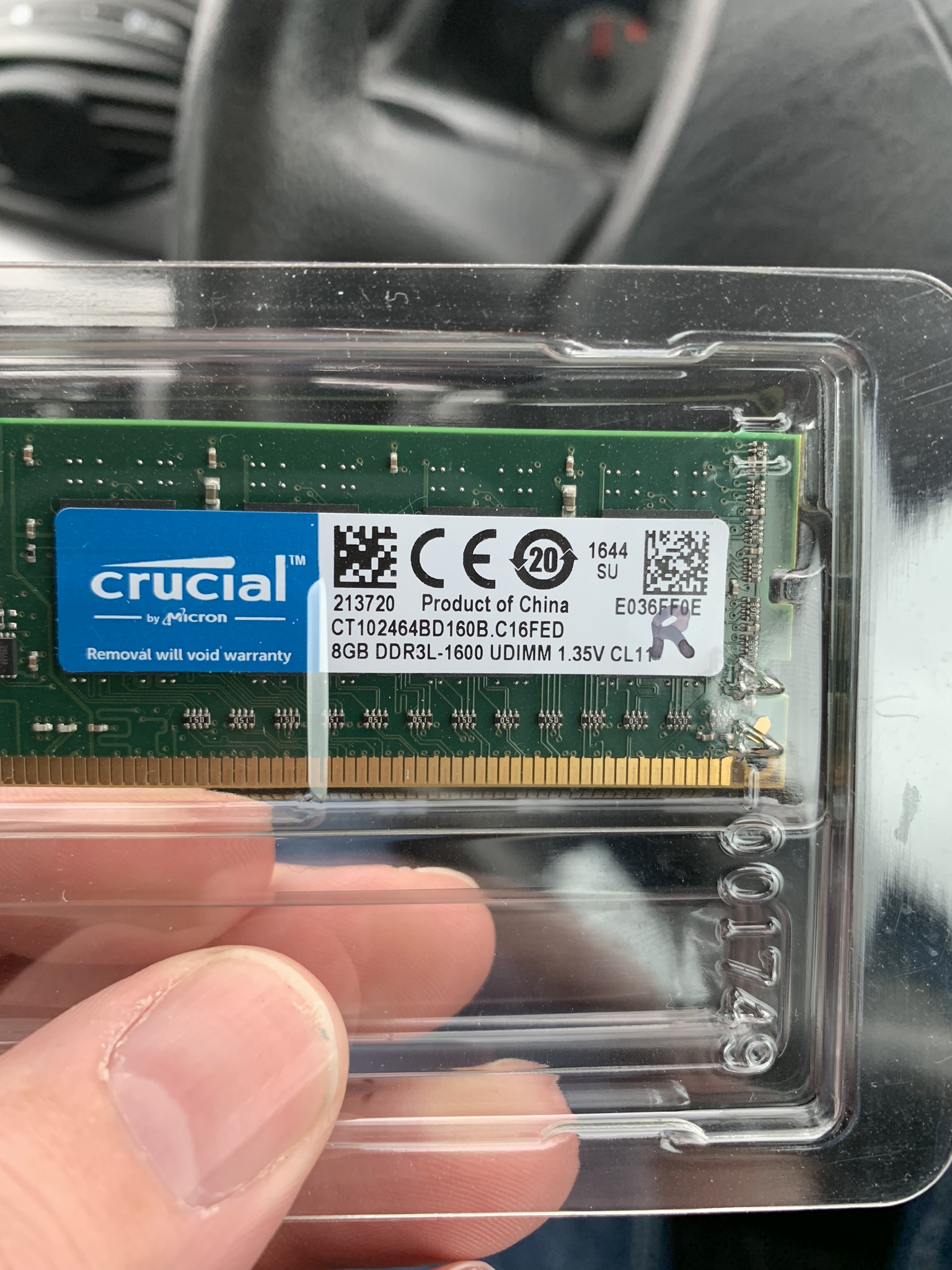 May 11th - RGB is go
So I also fitted the RGB strip inside the case - of course I'd prefer a case with a clear side panel, but this is how it came!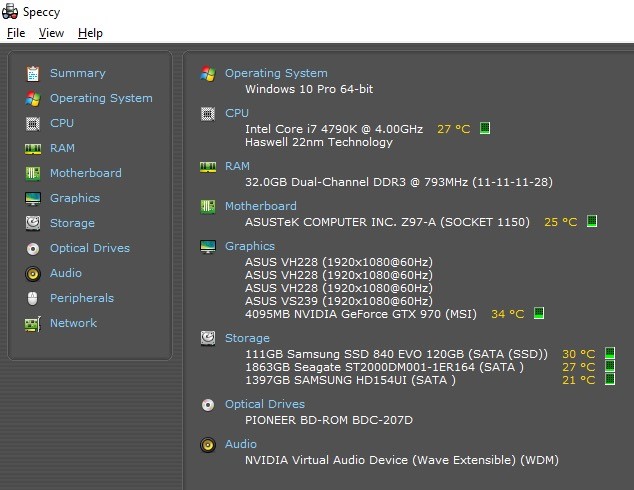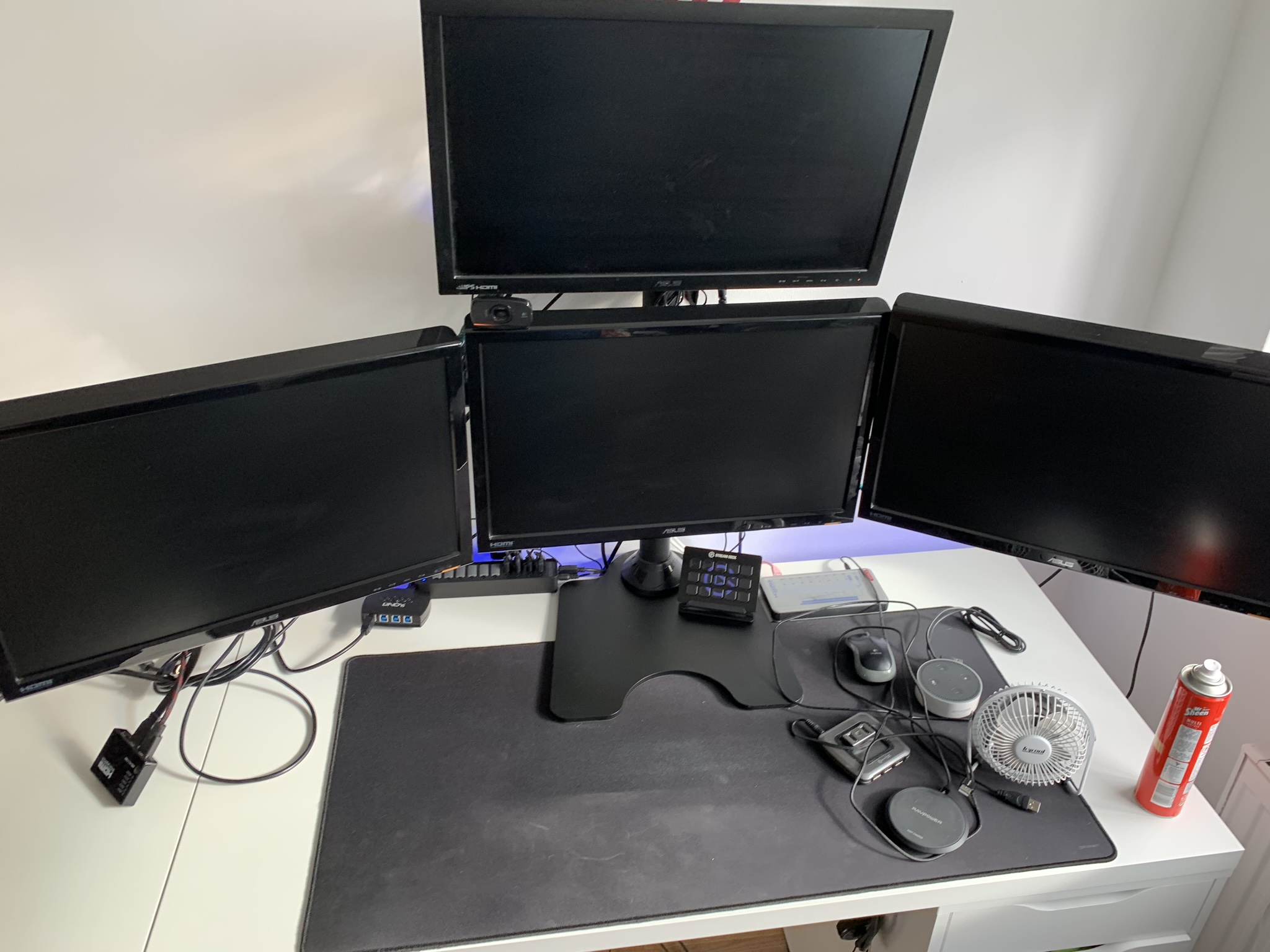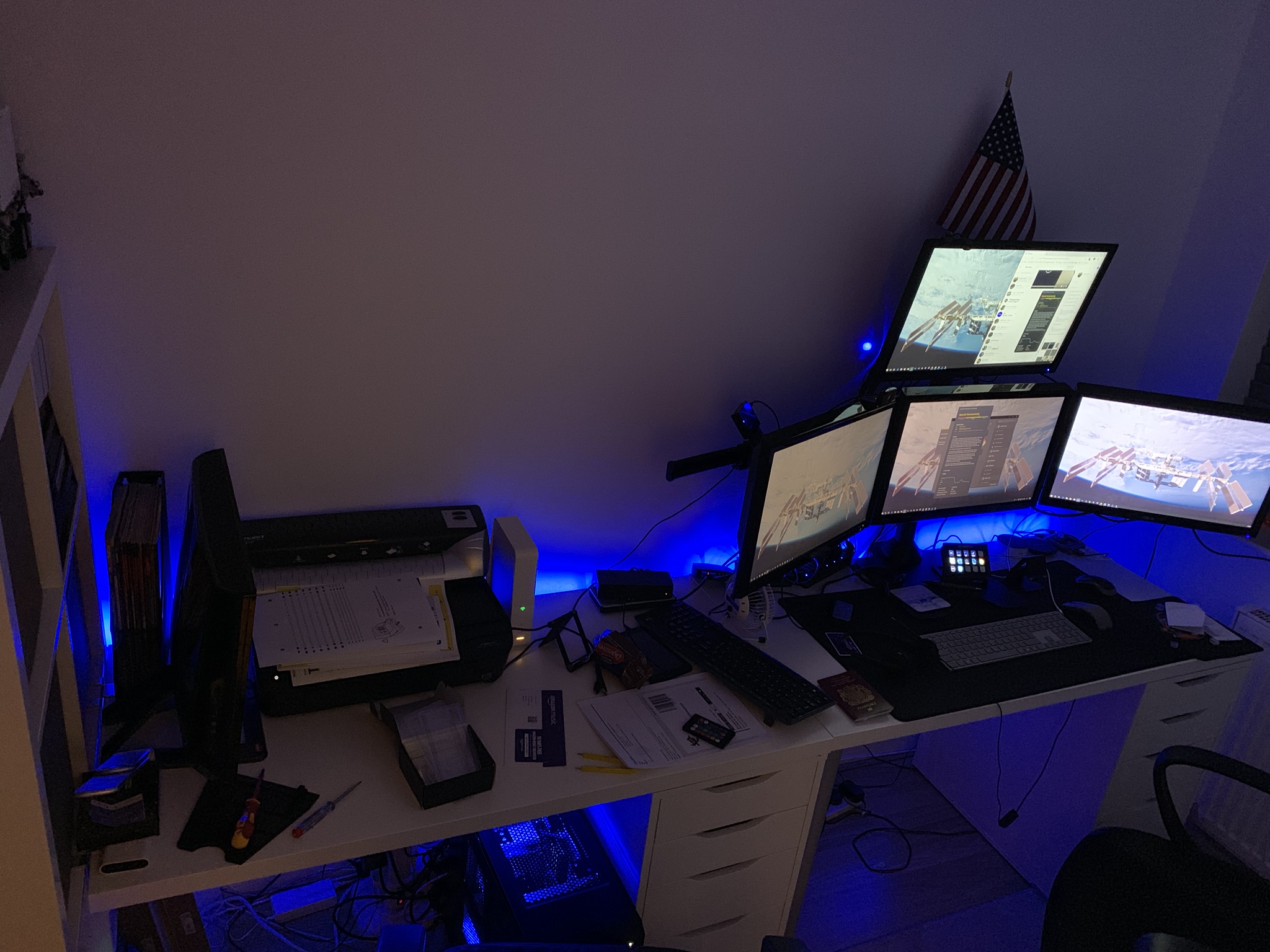 June 2019
4th - Another monitor enters the fray!
So I was looking around on Facebook marketplace (again), not really looking for anything in particular, but something caught my eye - that something was a 29" LG 29EB93 Monitor! Again not something required but it wasn't a bad price. I picked it up later that evening! I then added it to the pyramid!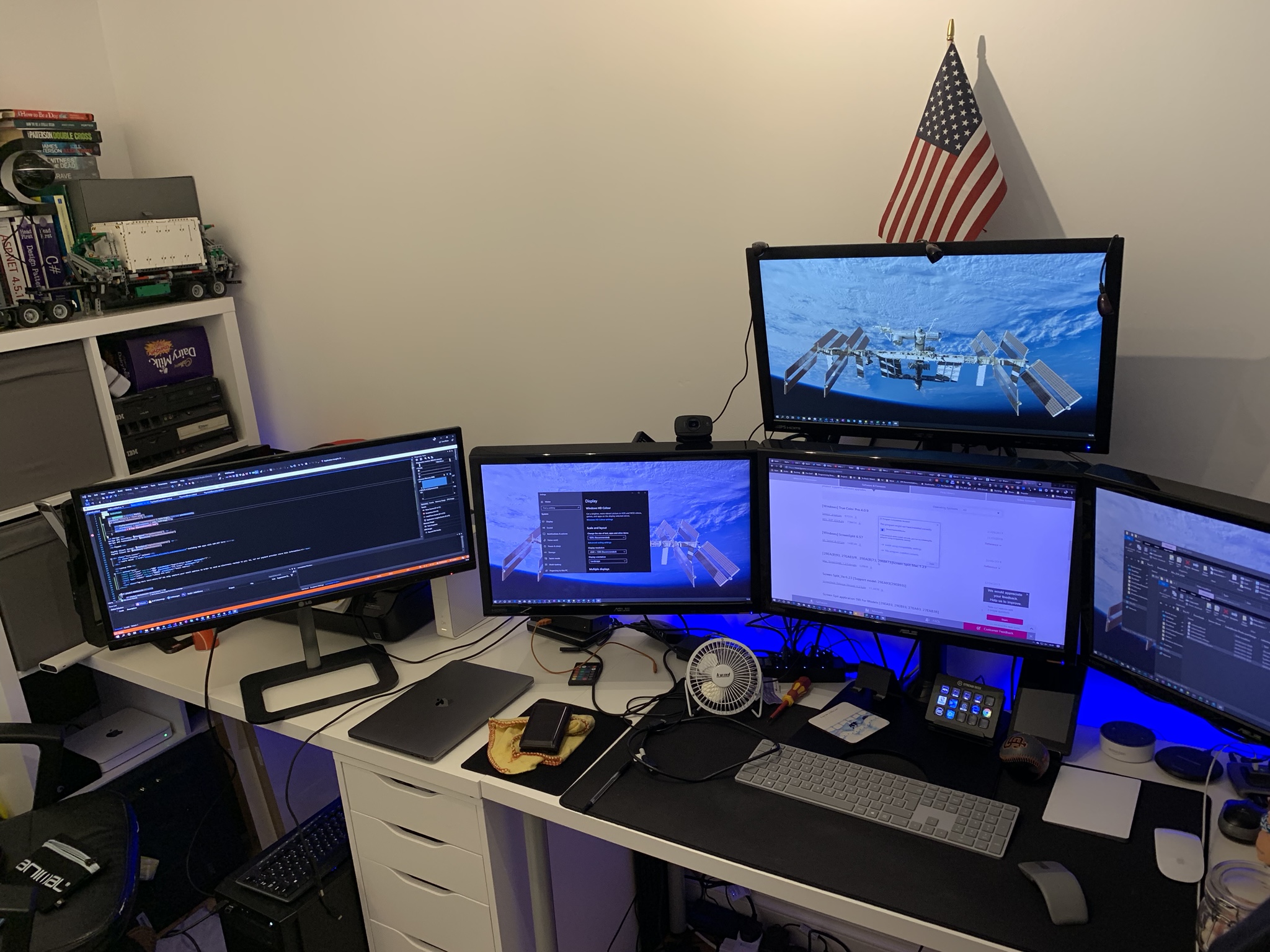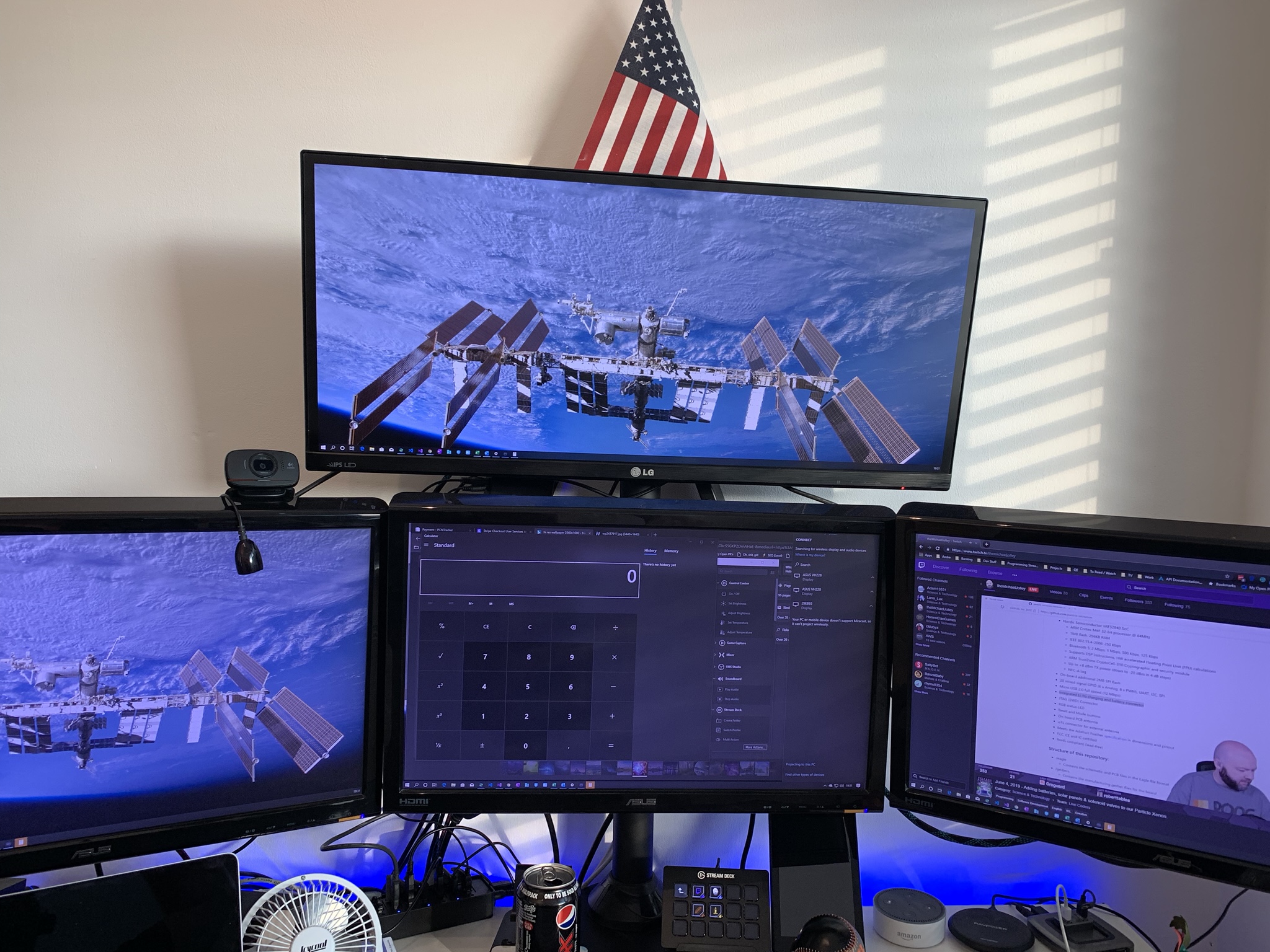 June 16th - 18th - Operation wall mount all the monitors!
So, that didn't last long until another plan started forming! Begin operation wall mount monitors, it took a little while trying to figure out a pattern that I would be happy with, I knew I wanted to flip the 29" monitor vertical, but wasn't sure how to position the rest.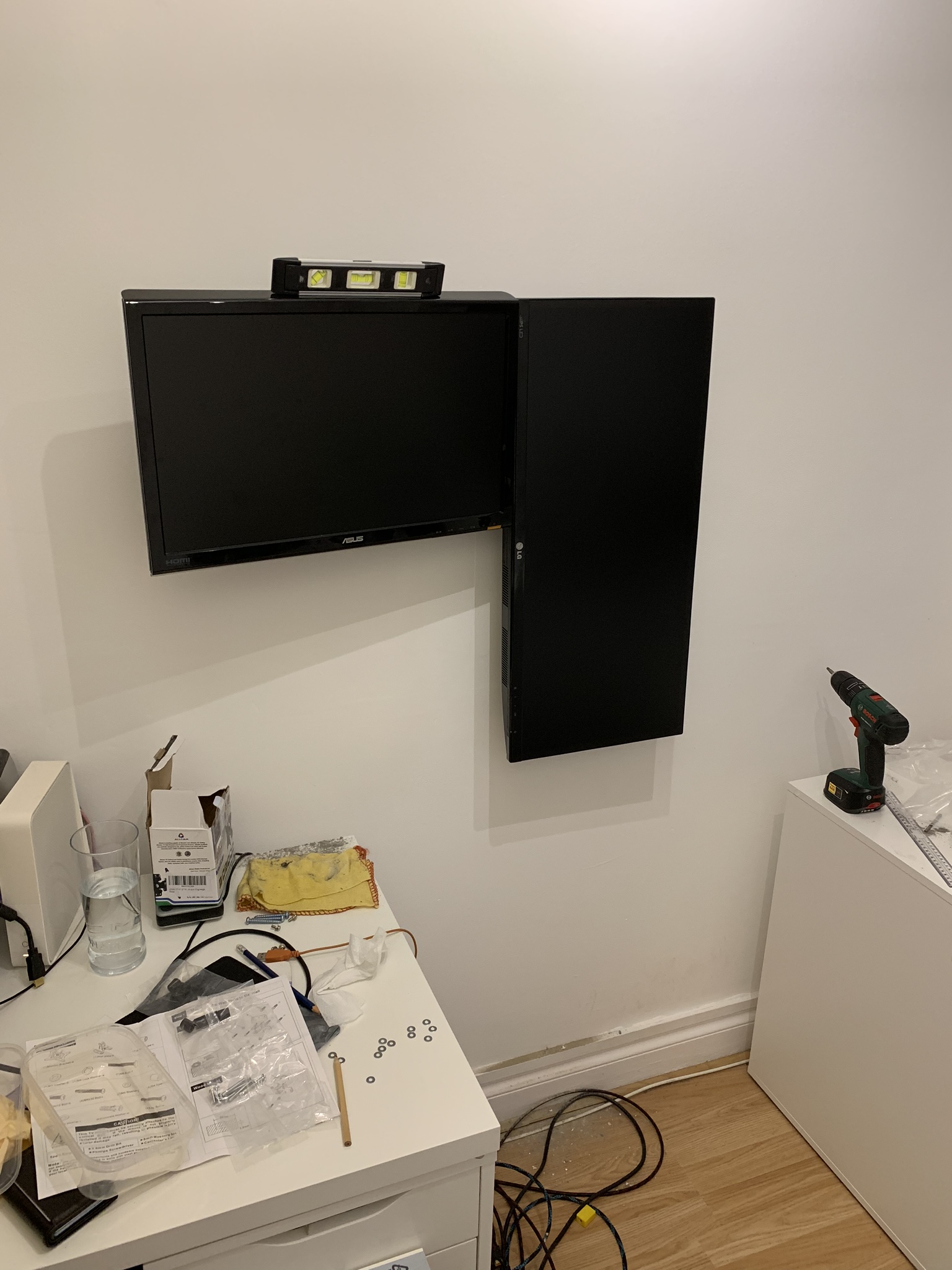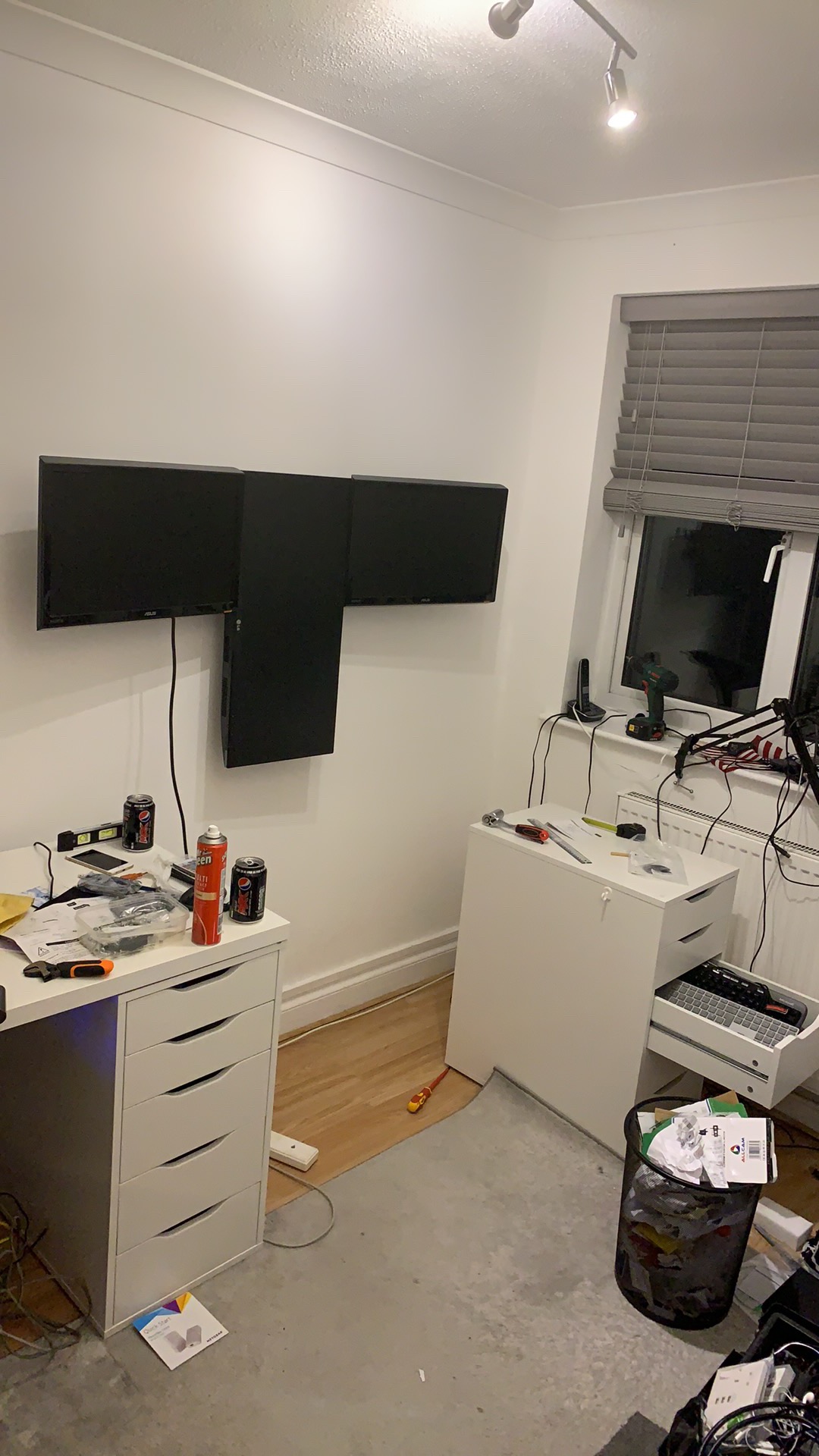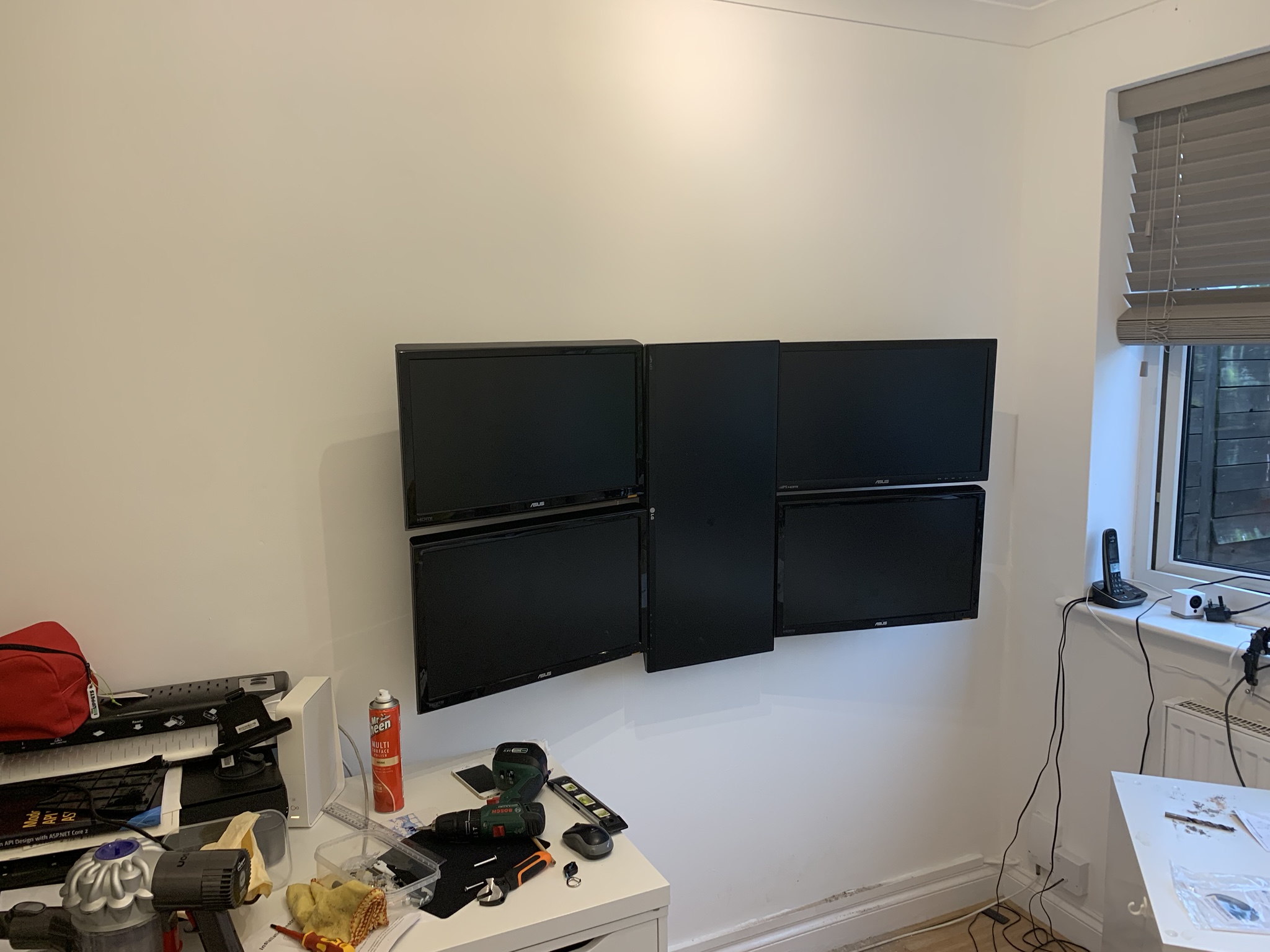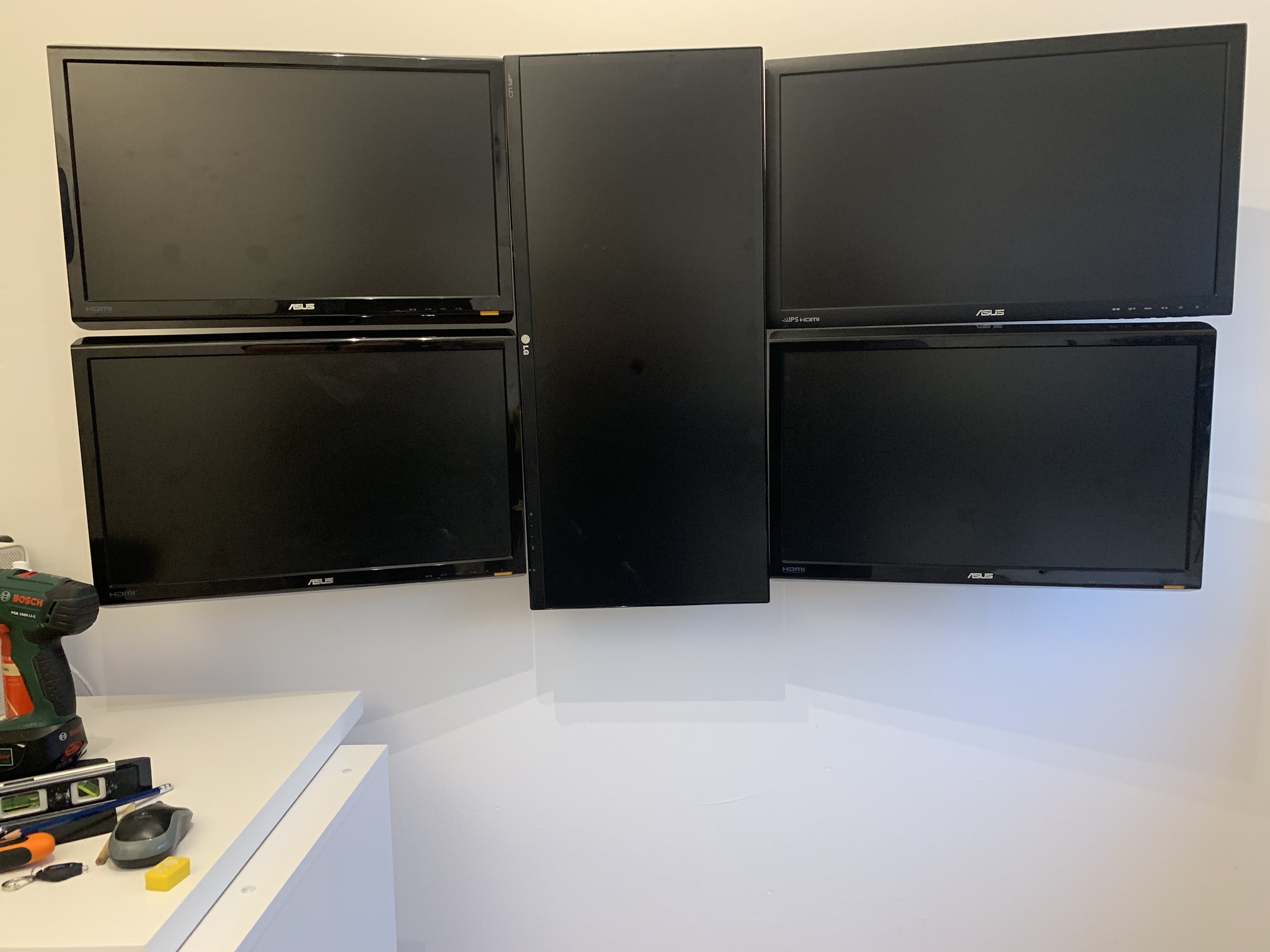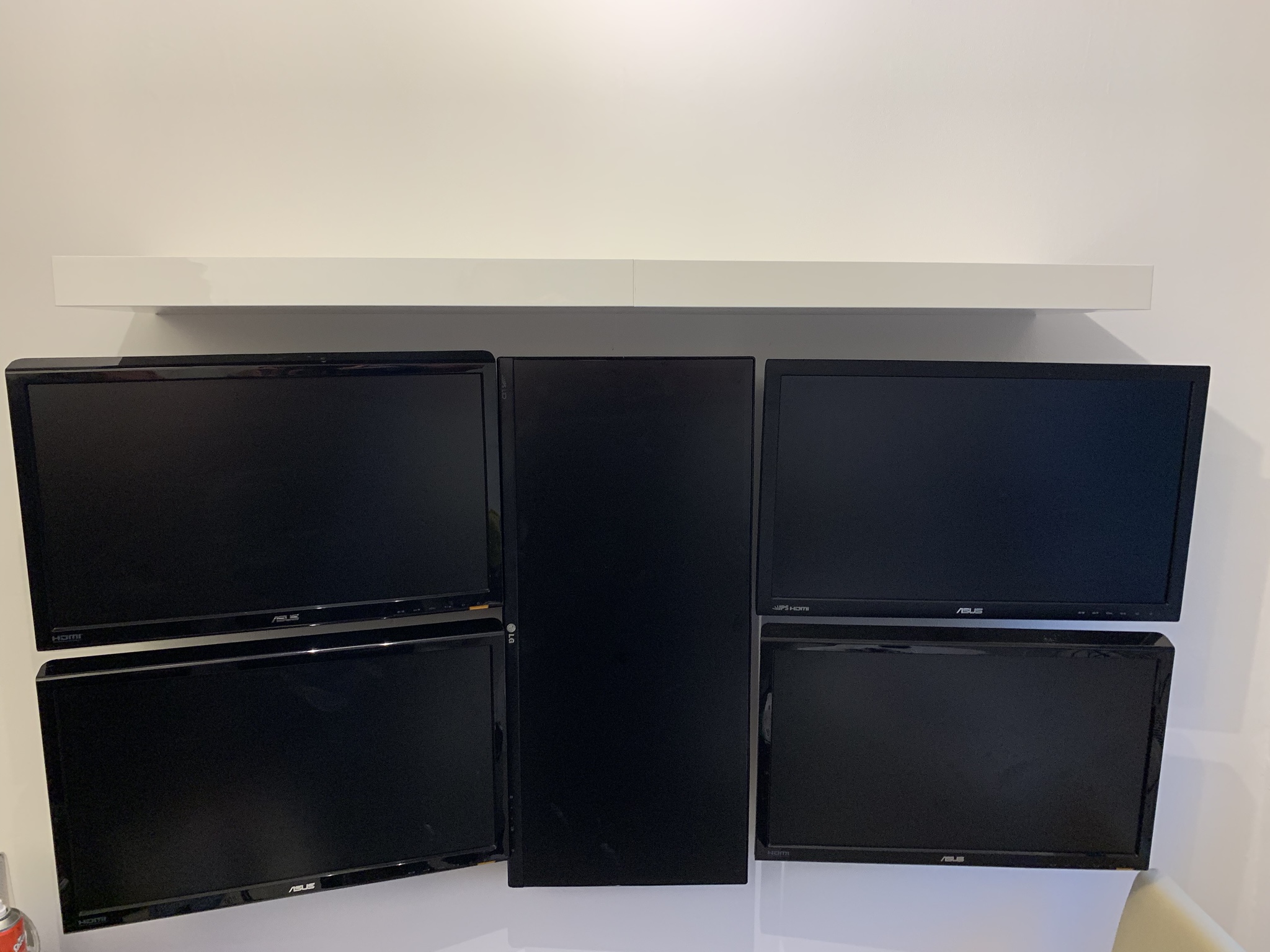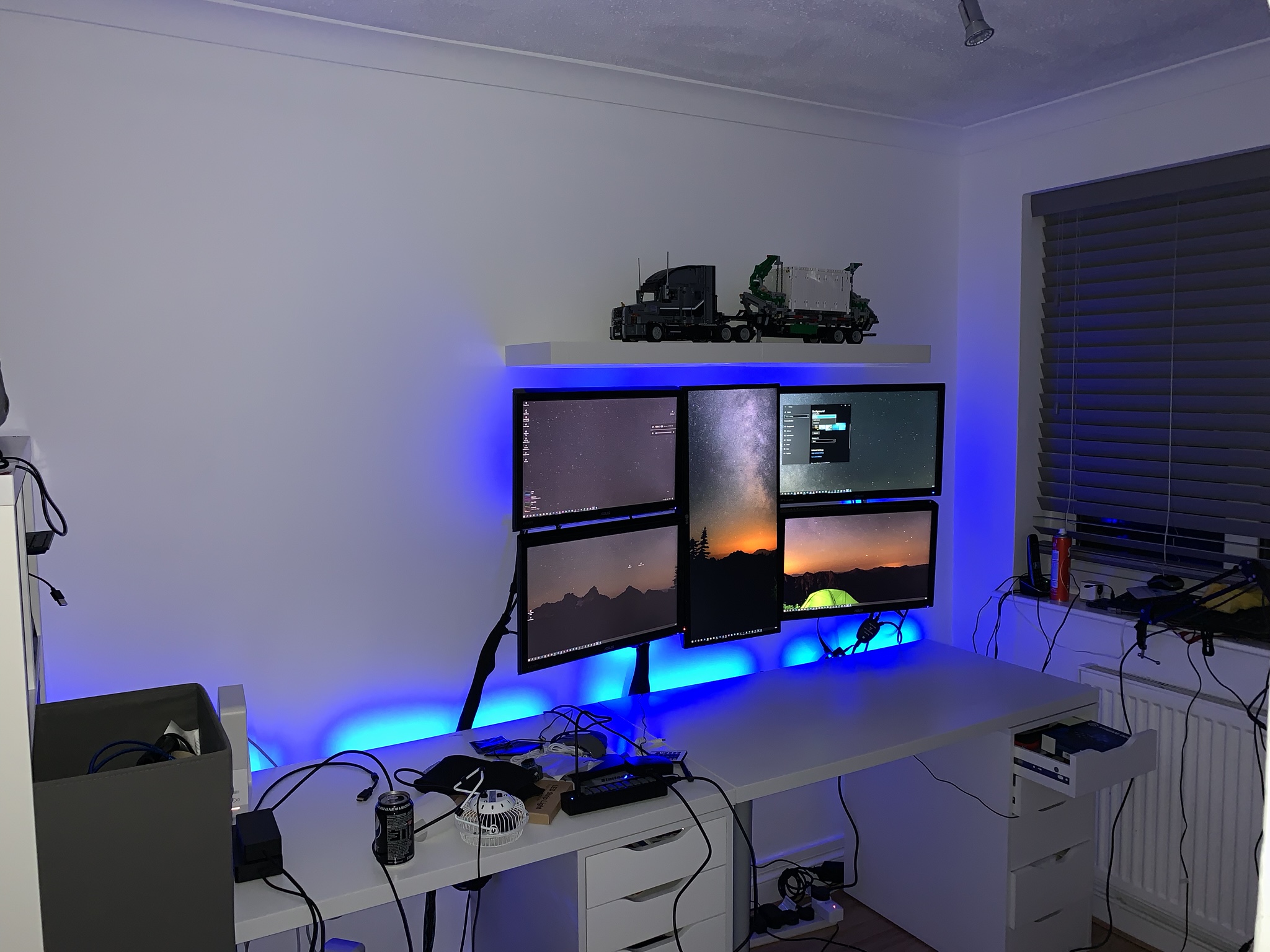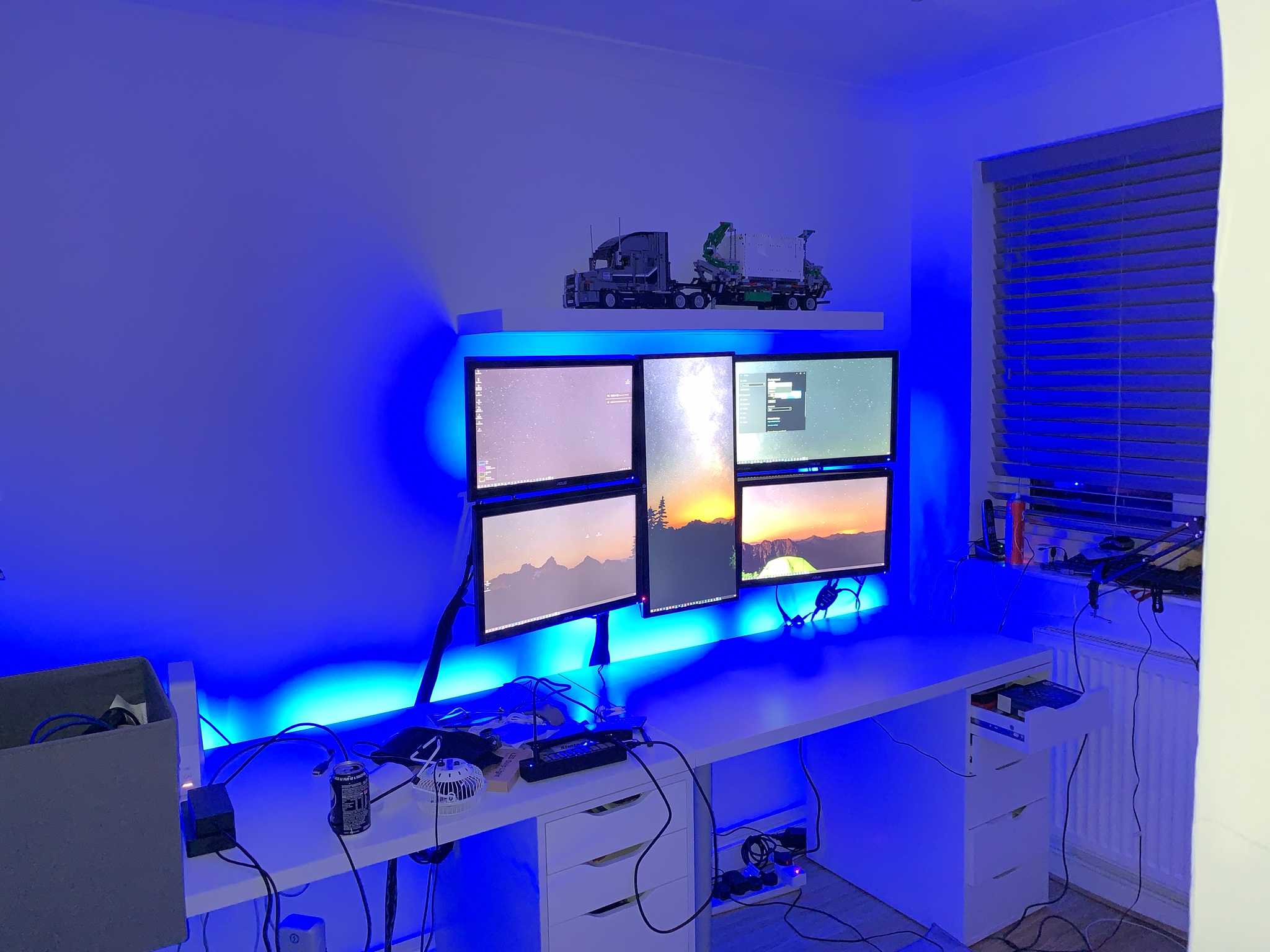 July
19th
The other half was visiting her friends in London for the weekend, and I once again found myself looking through that inevitable site again! Yep, you guessed it, it was Facebook Marketplace! This time the thing that had caught my eye was another GPU (nothing ground breaking, it was a Nvidia GTX 670 2GB). Now some of you, the more eagle eyed and more technical minded/intrigued of you may have started to wonder, if I have just one GPU (and if you haven't look it up to check), it only has 4 outputs on the MSI GeForce GTX 970 (HDMI, DVI-I, DVI-D, and DP), how an I managing to get a signal to 5 monitors independently without mirroring screens? Well, back in February 2018, another national electronics chain, with a local shop near me, called Maplins, unfortunately went out of business. I'd nipped there a couple of times as they started to sell the last of their remaining stock. One of the items I managed to pick up on these visits was a USB3 to HDMI adaptor - that is what provided me the ability to get a video feed out to the 5th Monitor.
Any way, I picked up the new GPU, went home and proceeded to fit it. However, after installing the new GPU, windows recognised there was something there but it wasn't working. I had a chat with a colleague the following day, and it turned out it required both 6 pin power supplies also, there weren't any more available from the PSU, so once again went on to amazon to see if I could find some Molex to SATA adaptors and some 15 pin SATA to 8 pin PCI-e adaptors. Having these fixed the issue and I could now run both GPU's.
Whilst not a very significant upgrade, it meant that I could now run all 5 monitors from GPU's, and not rely on any dongles!
20th
I saw something that caught my eye again on Facebook Marketplace, again not something I strictly needed, but something that would be a nice to have. It wasn't particularly local to me, but a friend of mine is constantly travelling in and around our adjacent counties. I asked him if he was near where this item was located and he was. I managed to negotiate a price and for £60 I became an owner of an Elgato HD60s. At the time, the standard HD60 were also going for around the same price, with the s model being a bit over £100, so this felt like a small win!
November
22nd - Mac develops fault
I turn my MacBook on whilst sitting on the sofa, still adjusting to becoming a first time dad less than 2 weeks ago. Missus and baby were sleeping, so I though I'd turn the mac on and see what was happening, and I notice something on screen, dread starts to fill up, I start panicking. Not 1, not 2, but a whole line of pixels seem to have developed a fault :( - these are bad times!
The line that sits right under the top status bar when you're logged in, and 2 yellow dots.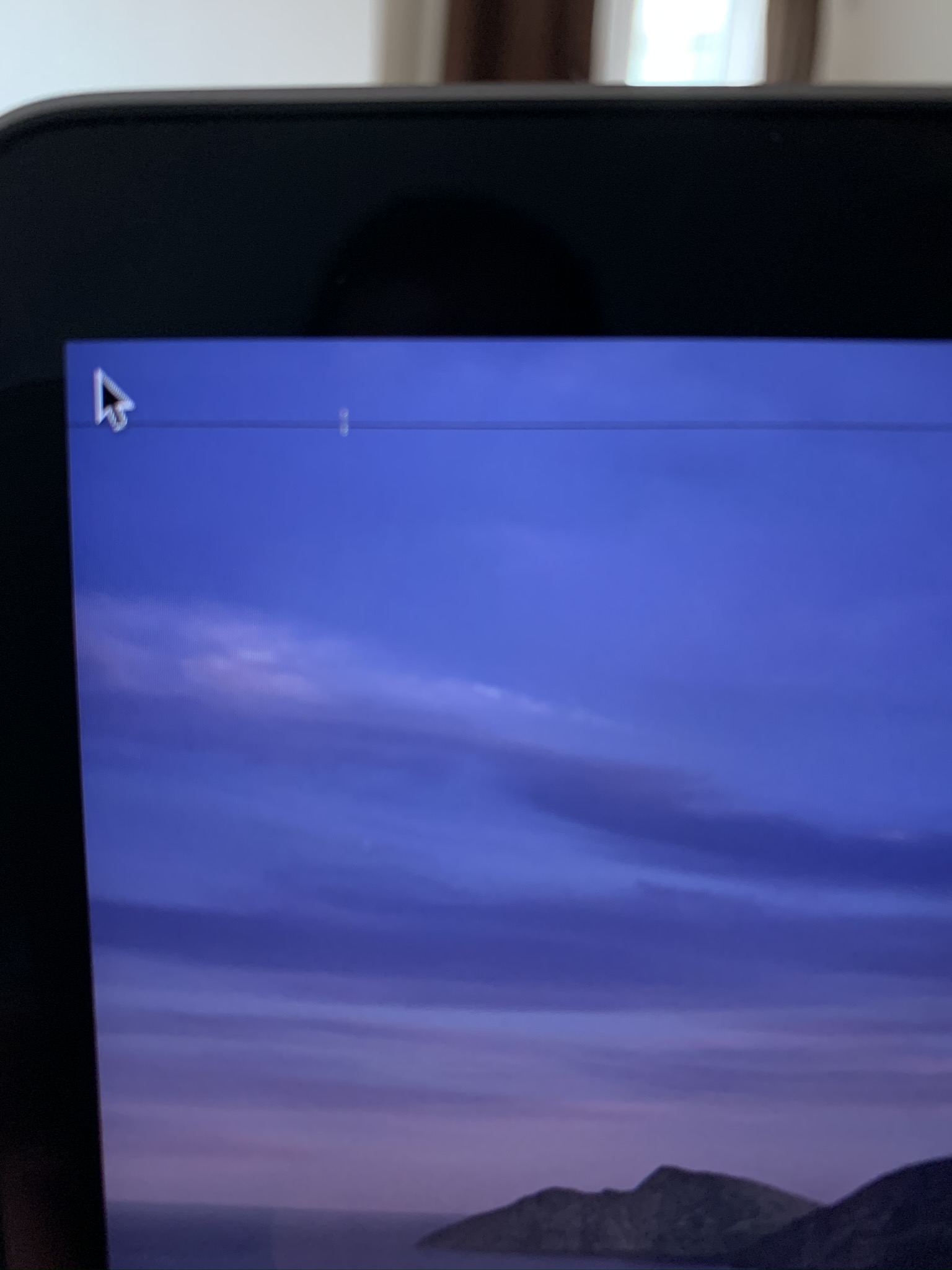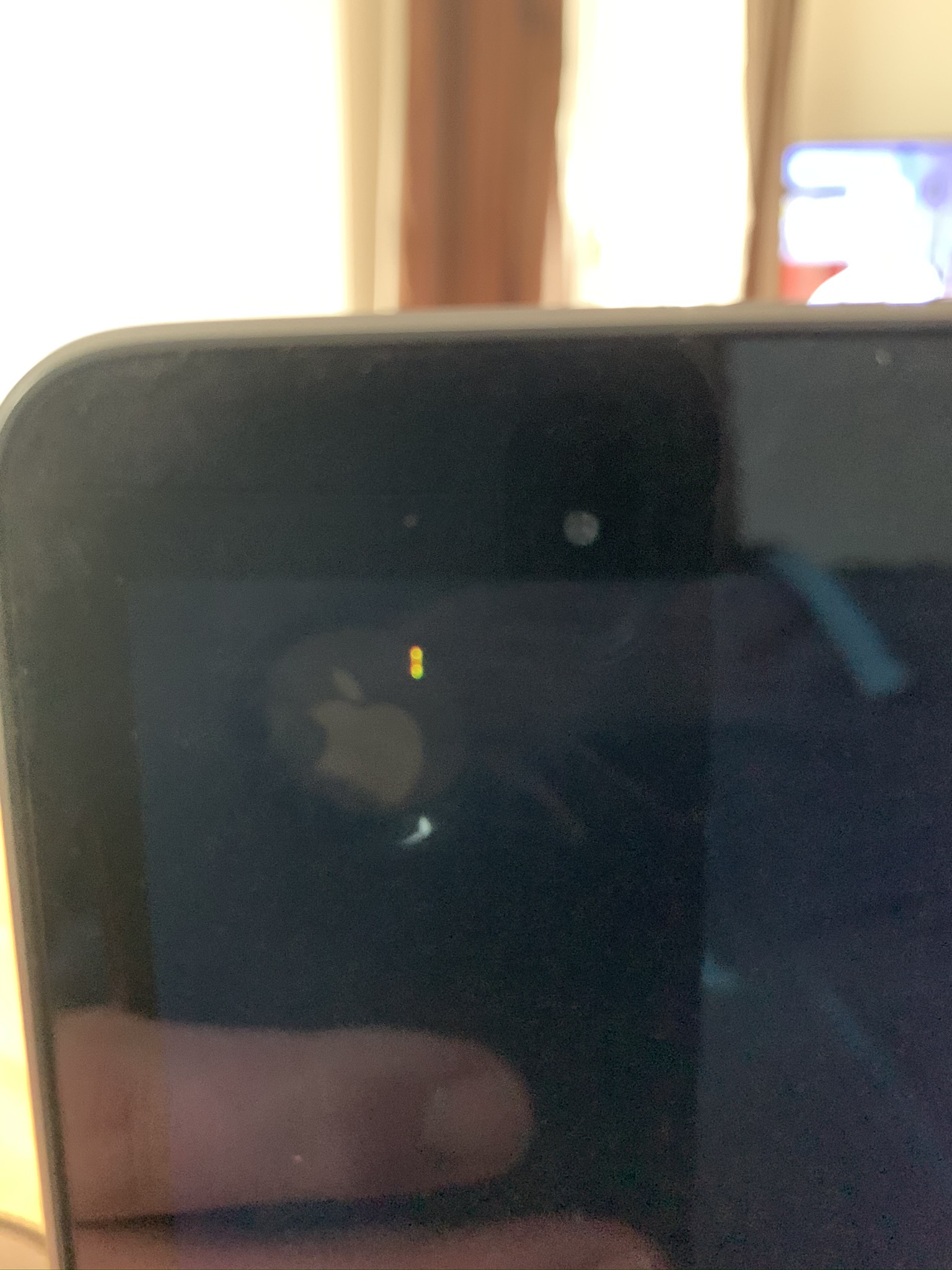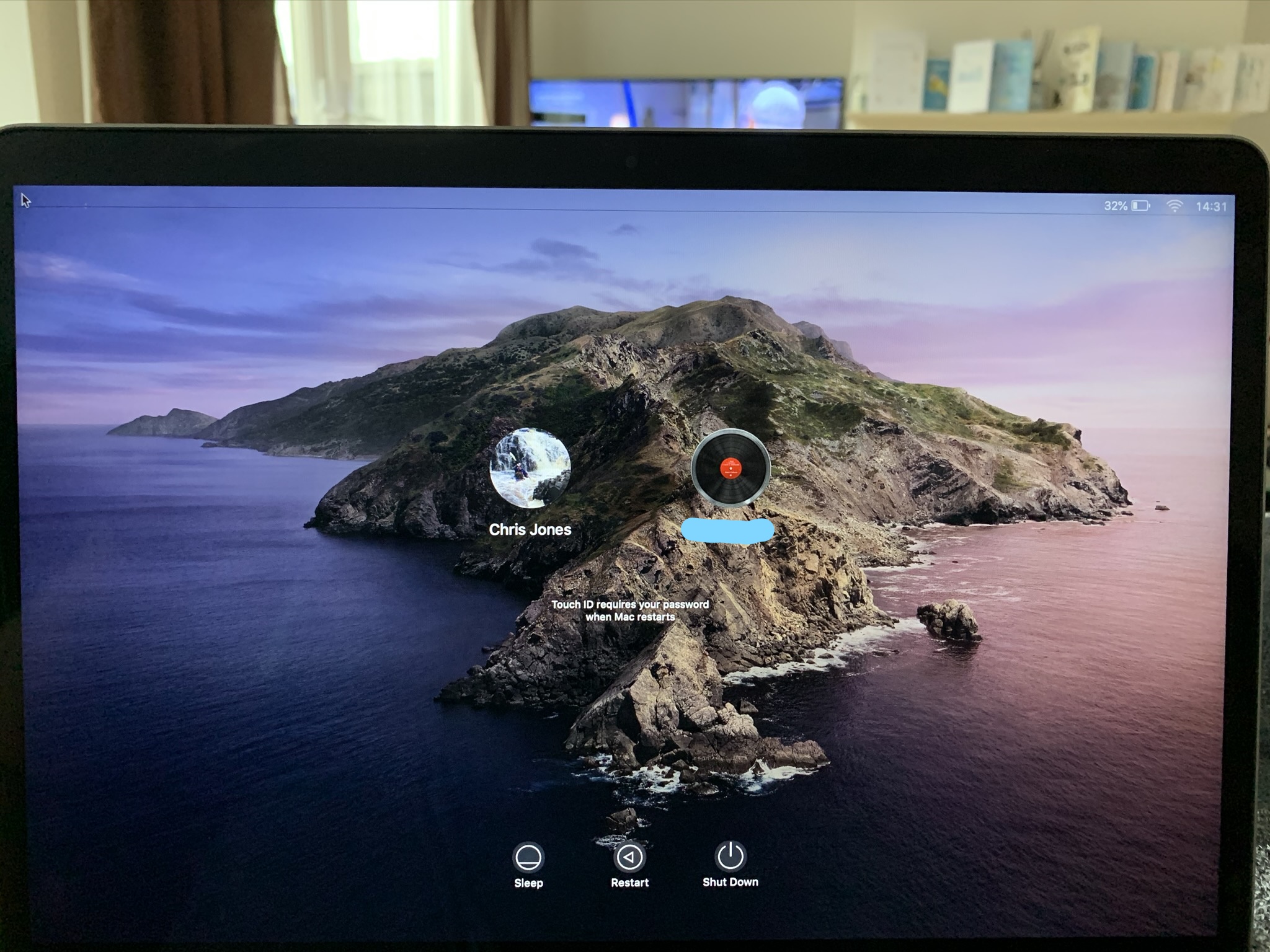 26th
Because little me decided to arrive 3 weeks early I had to nip into the office to clear my desk off. My employer is very generous in that they offer new fathers 6 months company paternity leave, with full pay & benefits. As I wasn't going to be going back for a while, I needed to clear my desk, pick my laptop up etc. Of course some of the team wanted to meet him too! We also nipped over the road to the department store I mentioned to try my luck and see if they would repair my MacBook, it was worth asking. When I bought it they supplied a 2 year warranty on it, I looked online but they said they don't cover pixel spots. My issue didn't quite fit that so thought it was worth a try! I spoke to one of their reps, explained the situation, showed him the fault, and the overall condition of the MacBook, I might be biased but I think it's been pretty well looked after. He said they'd need to send it off to their repair team, and it would be one of three outcomes: - It gets fixed under warranty - It doesn't get fixed - It gets fixed at a cost to me
Of course being this close to Christmas there is no guarantee I'd get it back before then, but it was worth a try.
December
20th
I get an email from the department store, and a phone call too. They've fixed it under warranty, result. I go and pick it up later that day!
2020
January
The next upgrade on my list, was to install a new and bigger SSD as my boot drive, so my other half got me this as a Christmas present.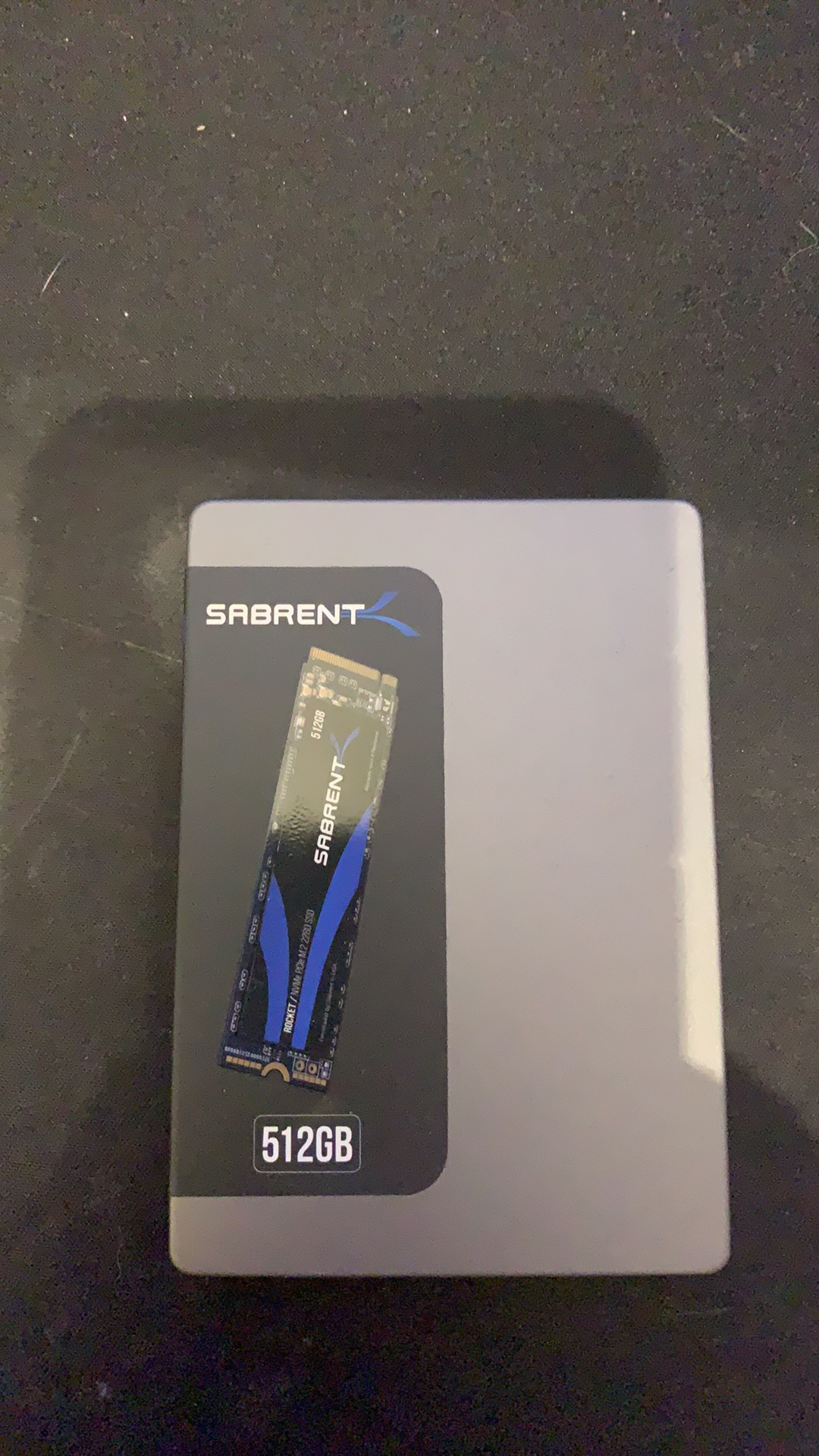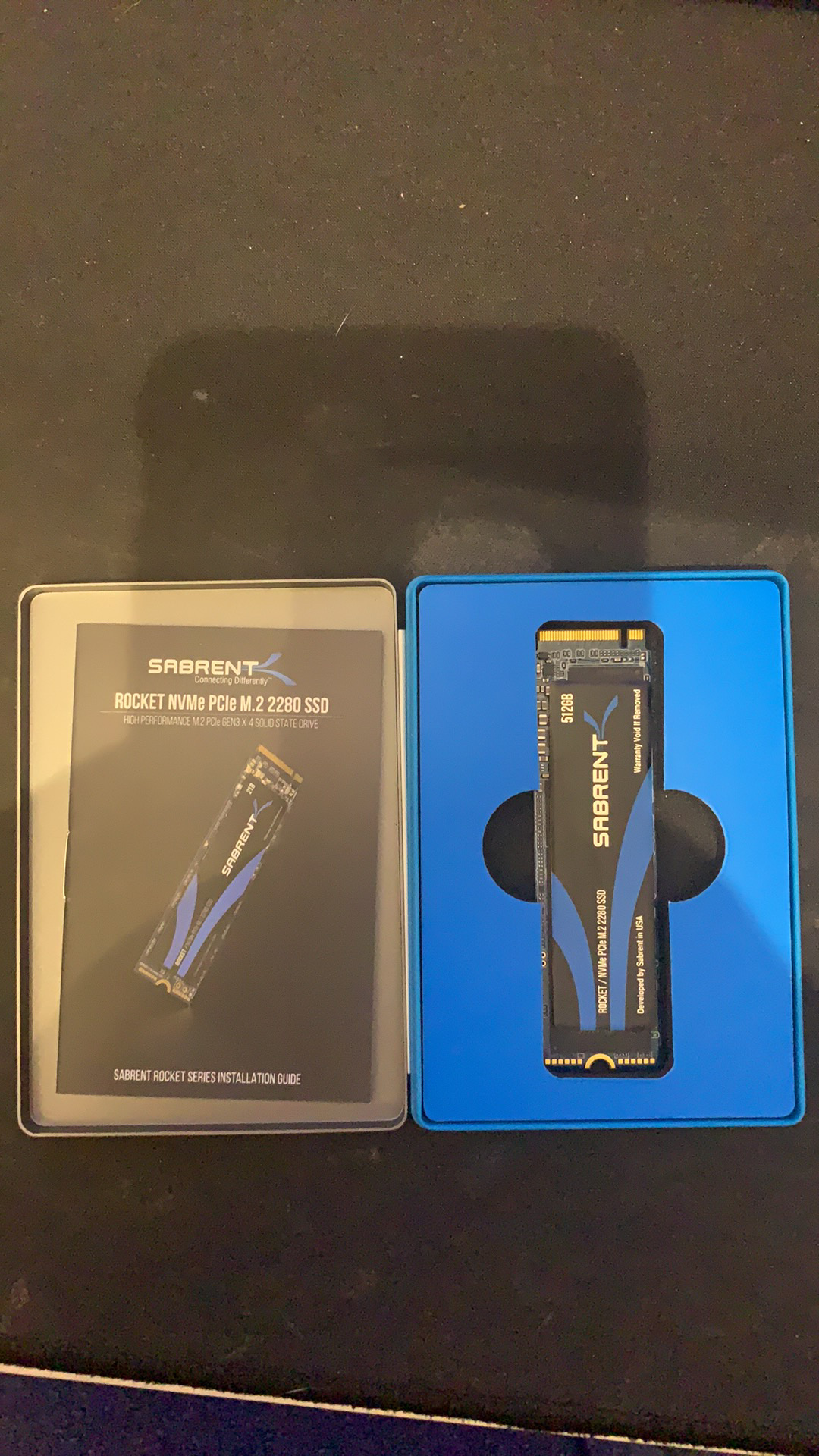 February
9th
Not a lot was happening, again I found myself having a bit of a flick through Facebook Marketplace (I'm not addicted)! I saw someone was advertising a fairly decent monitor for £10! Did I need another monitor? Not really, but for £10 I thought it might be worth a punt. It was an LG 25UM58-P. The girl selling it didn't have any of the leads for it but thought it might be worth a punt, I sent a message to confirm the price wasn't a typo (I looked up the same models which were going for £70-80 plus) and arranged a time to pick it, a couple of hours later I had it in my possession and was on the way home. I got home and decided to test it, having already having an LG monitor, I checked the output voltage matched the required for the newly acquired monitor, plugged it in and crossed my fingers! Hooray, it's in fully working order - no dead pixels, and apart from some surface dust, was actually in pretty good condition. So off to Amazon I went to look for a replacement power supply. I found this so decided to order it - it arrived the next day and so I had another fully working monitor, some might say a bit overkill, but I had managed to back myself a monitor for less than 30 quid which normally sell 2nd hand for 70 quid plus. I wasn't sure whether to keep it or to try and sell it on for profit, but for now, its staying where it is!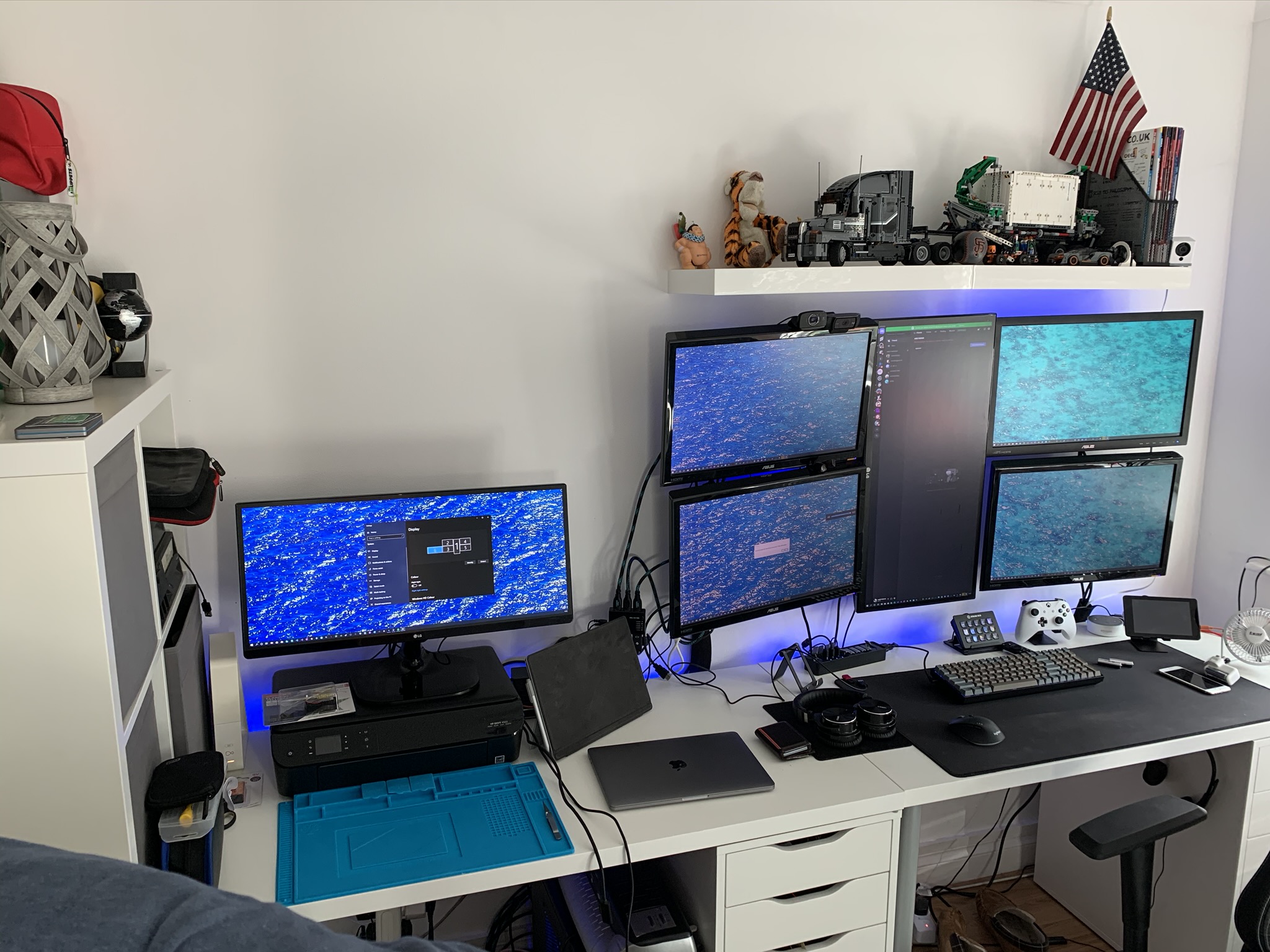 20th
As I mentioned earlier my Mac had developed a fault, and I was contemplating the idea of maybe a dual boot with a 'Hackintosh', however the latest OSX operating systems don't support NVidia cards but do AMD GPUs. I then decided to bid on one on eBay, a Radeon RX580 8GB Sapphire Nitro+ to be exact. It turns up and I set about making this my primary GPU, the 4GB GeForce GTX 970 secondary, and removing the 2GB one.
April
This is where I currently am, writing this blog post and trying to remember all of the little upgrades that I've done over the last 4 years ish. There is still some more I'd like to do, need to get my electrician friend round to install some new sockets and get better with some of that cable management - this blog post may end up becoming part of a series as my home office space continues to evolve.
Miscellaneous
Some of the things I haven't covered but also exist on my desk, are some HDMI switches for a couple of monitors. Why? I have 2 docks (hidden behind the Surface in the photo above), my Surface pro dock, and a Dell D6000 Universal Dock. You may ask why I have the dell dock, the reason being is my work laptop, provided by my employer, is a Dell Latitude 7480, and when I got it, they also upgraded all our docks on our desks in the office. Because the laptop is USB-C, it got me wondering if I could use it with my MacBook, I took a punt on one on eBay on October 2018 and it works, it charges my MacBook and also allows me to use up to 3 of my monitors. This is handy for when I want to work with my Mac, or when I need to work from home using my Dell work laptop.
So this is what I'm now currently running: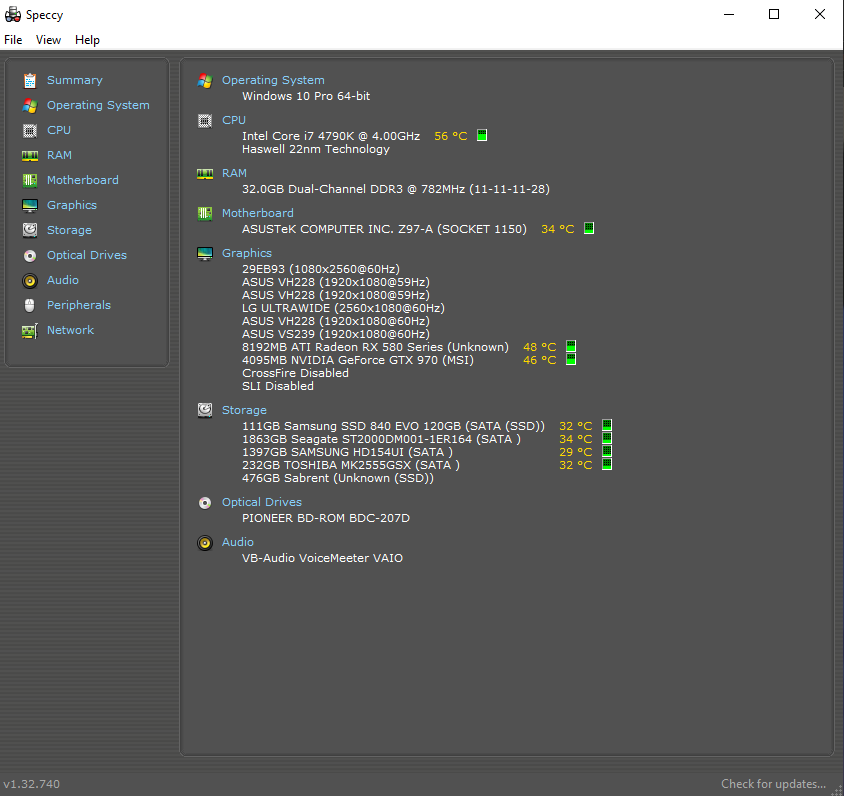 and here's proof that all 6 monitors are being driven from the same PC!